This blogger just exposed how hard it is to find a good swimsuit when you're plus sized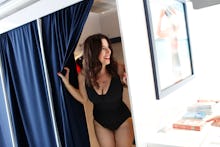 There are plenty of miserable, traumatizing experiences we still think are better than having to go out and find a swimsuit that fits.
Sitting on an airport runway for two hours? Finding a bug in your bathroom — and then having it disappear? Thanksgiving with your extended family? Bring it on. We'd take all of these before having to step into a poorly lit dressing room with like 25 swimsuits and coming out with neither a swimsuit nor an intact self-esteem. 
As per usual with any shopping experience though, plus-size women have it even harder. 
That's the message that blogger Aliss Bonython, who has more than 71,000 Instagram followers, wanted to get across with one of her most recent posts. 
"The reality of bikini shopping as a plus-size woman," she wrote, posting three pictures of herself in a dressing room trying on a bikini that barely covers her breasts and bottoms that barely cover anything at all. 
"I used to get so disheartened when I would go shopping for swimwear with my friends who had no issue finding them," Bonython continued. "I've always had too much boobs/ass/hips to wear straight-sized bikinis and instead of punishing myself and my body for not fitting into this narrow ideal of sexy, I just look elsewhere." 
This was what she experienced for years, Bonython wrote, before plus-size women like Gabi Gregg stood up and tried to improve things themselves. When she tried on one of Gregg's Swimsuits For All suits, it was the first time she felt like she didn't have to change her body for a bikini. 
"I remember getting a bikini from @GabiFresh @SwimsuitsForAll collection and not feeling like I had to change myself to look OK, because it came fitting every curve on my body," Bonython wrote. "Massive thank you to all the brands who don't forget about us curvy girls." 
Plenty of women feel the same way. Bonython's post, which has been liked more than 15,000 times, there are more than 600 comments that wholeheartedly agree. 
"Story of my life," one commenter wrote. "When bikini tops are only big enough to cover your nipples and then dig into your shoulders trying to support your chest. I've been there girl," another wrote. And another: "The struggle is so real."
Goes to show you just how important it is for designers to understand that plus-size women want just what everyone else wants: cute, fun fashion that actually fits. 
Mic has reached out to Bonython for comment.