The designer of this bizarre U-shaped skyscraper says it can help make NYC more affordable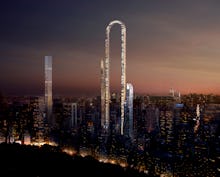 Empire State, Chrysler... Big Bend?
The architecture studio Oiio recently released a proposal for a strange U-shaped New York City skyscraper it says would be the longest building in the world.
The "Big Bend," which would be 4,000 feet long, "can become a modest architectural solution to the height limitations of Manhattan," Oiio says on its website. 
"New York city's zoning laws have created a peculiar set of tricks through which developers try to maximize their property's height in order to infuse it with the prestige of a high-rise structure," according to Oiio. "But what if we substituted height with length? What if our buildings were long instead of tall?"
The bizarre skyscraper would also apparently include elevators that travel horizontally? And would stand above 57th Street as if on a pair of tall, skinny steel legs? The loopy building would be a strange addition to the New York skyline, for sure. 
But Oiio suggests that the Big Bend could be an answer to expensive housing in the city. 
"It seems that a property's height operates as a license for it to be expensive," according to the studio's website. "We can now provide our structures with the measurements that will make them stand out without worrying about the limits of the sky."