'The Americans' Season 5 Theories: How Martha is adapting to her new Soviet life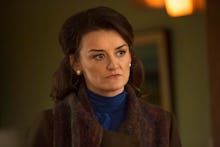 The most recent episode of The Americans answered a big question that has been nagging viewers ever since the middle of last season: What's become of Martha?
Martha Hanson, as fans are well aware, was a mild-mannered FBI secretary who spent the first few seasons of the show being duped by Matthew Rhys' KGB agent. After she ultimately became a burned asset (Rhys' character, Philip, eventually came clean to her), she was exfiltrated to the Soviet Union and, up until Tuesday's season five episode, "The Midges," hadn't been seen since.
However, the reappearance of this fan favorite hasn't given us much to go on. In her single, dialogue-less scene, Martha was merely just another proletariat shopper trying to put together a meal from her Moscow grocery store's meager options (she also appeared to still be struggling with the Cyrillic labels). We know she's still alive, and that's about it.
And don't think the actress who plays Martha, Alison Wright, is going to comment further on what's in store for the character. In an interview with Vanity Fair, when asked if her busy schedule — Wright is currently starring in FX's Feud and on Broadway in Sweat — would've even allowed for more Martha appearances, she replied, "I can't tell you that!"
So using what little spy techniques we've learned from multiple seasons of The Americans, below are five theories on what Martha's been up to since moving to the USSR.
1. Raising Philip Jennings' secret love child 
This would be such great karmic payback for how Philip misled Martha for so many years — she was even led to believe they were married, for heaven's sake! Enough time has passed for Martha to have been pregnant when she left the U.S. and to have delivered a baby by now. But from a creative standpoint, I wouldn't bank on something this on-the-nose from The Americans' showrunners. Mainly because Philip already has another kid he barely knows making his way toward Washington, D.C. from Moscow.
2. Running a babushka business
Martha rocks that traditional headgear like any natural-born Soviet, and she even knows how to accessorize it with a nice neck scarf.
3.  Working as a secretary for the KGB
Might as well do what you do best! Maybe she could introduce the concept of a mail robot to her Russian colleagues.
4. Hosting a cooking show on state TV
True, being in the public eye would go against that whole keeping-a-low-profile so the FBI doesn't stage a transatlantic arrest idea, but this is The Americans, and who's to say Martha can't finally be outfitted with one of the show's signature disguises? Again, we're just going on what we've seen, which is that she was spotted shopping for food. Perhaps she's perfected the ideal borscht recipe, or figured out how to create makeshift peanut butter. Along those lines, one fan even suggested she's running a peanut butter smuggling operation:
5. Teaching the Kama Sutra to unhappy Soviet housewives
You teach what you know, right? And Martha is well versed in the tantric sex bible. Also, as far back as season two, even Wright confirmed that her unassuming character had a "very healthy sex life."
So please let that also mean that she's found love with a fellow comrade.
The Americans airs Tuesdays at 10 p.m. Eastern on FX.
Mic has ongoing The Americans coverage. Please follow our main The Americans hub here.