Is Ivanka Trump's new White House job a cause for concern?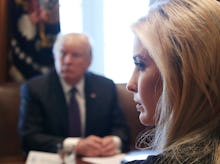 On Monday, Politico was first to report that Ivanka Trump was officially made an unofficial adviser to her father, President Donald Trump. This (non)appointment has raised important questions about ethics, nepotism and national security. 
This announcement was clearly in the works for some time. The Washington Post reported that, "For nearly two months, the White House held a prime piece of office real estate in the West Wing for Ivanka Trump," just in case she should take a position. It also reported that recently named deputy national security adviser Dina Powell was initially hired to advise Ivanka Trump. 
In the context of the Trump presidency, is this unprecedented development something about which the world should worry, or is opposition to nepotism an unfortunate casualty of the 2016 election?
How abnormal is Ivanka's position?
Ivanka Trump is not the first presidential progeny to advise a parent. Political historian Julian Zelizer told NPR that both Teddy Roosevelt and George H.W. Bush had children who gave them advice. The Ivanka situation is different. She will have a West Wing office and not only the specific "women in the workplace" portfolio, but will also serve as her father's "eyes and ears." 
She will have all this responsibility, without the inconveniences of being an actual government employee. She will not be sworn in, and will not take an oath to uphold the Constitution. 
Ashley Prattle of US News & World Report points out that Ivanka Trump's communications will not be subject to Freedom of Information Act requirements. Additionally, while she has announced that she will voluntarily comply with ethics requirements, she is not obligated to do so. It seems unlikely that she would make an announcement if she decides to to stop following those requirements. 
The ethical concerns arise from the sole ownership of her business interests. While she has divested from many assets, her company is in a trust controlled by her brother-in-law. Her business is already the target of a class action lawsuit for having an "unfair business edge."
Ivanka Trump is cleared to work in the White House 
The day after Trump's inauguration, the Justice Department's Office of Legal Council ruled that the federal anti-nepotism statute did not apply to White House Staff. This paved the way for Ivanka Trump's husband, Jared Kushner, to take a formal position in the Administration, and clears any legal hurdles for Ivanka Trump, too. The legal decision reversed two previous rulings.
In the context of the Trump Administration, Ivanka Trump's new position may not be the moral morass it is made out to be. Ivanka Trump's presence at meetings with Shinzo Abe, Angela Merkel and Justin Trudeau, caused consternation and raised questions, but it only showed what we already knew to be true. Ivanka Trump was already a key adviser to President Donald Trump. She had an amorphous position without any checks or transparency at all. It could be that in this new position there will be more transparency about her activities. 
In most previous administrations, she would be under-qualified for a senior White House position — in the Trump Administration, she has just as much governing experience as her father.