Who is Khalid Masood? What we know about the London terror attack suspect.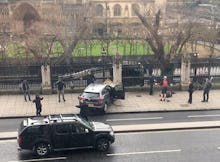 London police have named the attacker in Wednesday's deadly terror rampage in Westminster as Khalid Masood, a 52-year-old British man with past criminal convictions.
According to the Guardian, police believe that Masood was born in Kent, but had most recently lived in West Midlands. Although he was not wanted for any crimes at the time of the attack and had never faced terrorism charges, he reportedly had a slew of previous convictions, which included charges of assault, criminal damage and possession of a knife.
On Wednesday afternoon, an SUV driven by Masood plowed into pedestrians along the Westminster Bridge near Parliament, killing four people and injuring dozens. 
After crashing the vehicle, Masood began making his way toward Parliament, fatally stabbing a police officer in his path before being shot to death by other law enforcement officials on the scene.
The incident prompted Prime Minister Theresa May to be spirited away by bodyguards, as well as an immediate lockdown for lawmakers inside the House of Commons.
On Thursday morning, ISIS claimed responsibility for the attack through its Aaamaq news agency, saying that the perpetrator had acted as a "solider of the Islamic State," according to the Associated Press, but offered no evidence to support the claim.