Joe Biden met a puppy named "Biden" and the internet lost its mind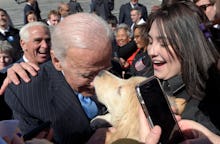 Joe Biden was in Washington, D.C., on Wednesday to commemorate the seventh anniversary of the passage of the Affordable Care Act. 
Also at the Capitol? A cool puppy that is also named Biden.
The former vice president evidently spotted the four-month-old golden retriever during his speech Wednesday, and afterward beckoned over his canine counterpart and the dog's owner, Sydney.
Upon learning that he and the cool dog shared a name, the vice president's "face lit up" and "he started kissing the dog," Sydney told BuzzFeed.
People on the internet were pretty psyched.
Meeting his namesake is but one of the many adventures Biden the Dog has embarked on. His Instagram page @BidenTheGolden has chronicled the pup wearing a bowtie at the Senate, sneaking a quick snooze in the Capitol Rotunda and getting some work done on his laptop.