'The Handmaids Tale' Trailer: Hulu drops their first full-length promo — and it's chilling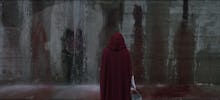 The first full-length trailer for The Handmaid's Tale, the Hulu adaptation of Margaret Atwood's best-selling novel, has been released. 
Starring Elisabeth Moss as the title's character and narrator, the 10-episode series was hotly anticipated following its announcement and the book, along with other dystopian stories, has increased in popularity following President Donald Trump's electoral victory.  
The series chronicles life in Gilead, a totalitarian society. Once part of the United States, Gilead is plagued by a decline in pregnancy and birth rate following an environmental disaster. In Gilead, women are valued for one thing only: their fertility. Handmaids are employed to bear children for commanders and their wives, and that's what Offred, played by Moss, is. But she has other goals in mind that include surviving and finding the daughter who was taken away from her. 
The relevance of The Handmaid's Tale has not been lost on American culture or Atwood herself. The book shot to the top of Amazon sales, and women recently wore robes resembling the Handmaids to the Texas Senate floor to protest a bill on abortion. 
The series' trailer stresses the importance of political awareness within the first few seconds, as Moss narrates, "I was asleep before. That's how it happened." 
The cast of The Handmaid's Tale also includes Alexis Bledel, Joseph Fiennes, Yvonne Strahovski, Samira Wiley, Max Minghella, Madeline Brewer, Ann Dowd and O-T Fagbenle. 
The Handmaid's Tale premieres on Hulu April 26. 
Mic has ongoing TV coverage. Please follow our main TV hub.