Is Nicki Minaj taking more shots at Remy Ma on David Guetta's "Light My Body Up"?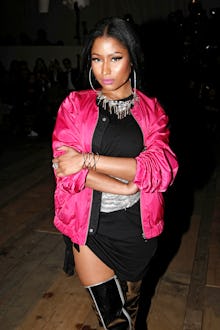 Thursday, Nicki Minaj continued her 2017 release streak offering verses and hooks to David Guetta's "Light My Body Up," which also features Lil Wayne. Like "No Frauds" before it, the new track seems to come with more veiled disses aimed at her recent rival, Remy Ma.
Right out of the gate, she pulls a triple entendre while appearing to mock Ma's recent prison stint: "Yo, I just started my sentence like a capital letter," Minaj raps, punning off the dual meaning of jail sentence and written sentence. "Got bars for years, I hope you send me a letter."
Notably, the prison where Remy Ma served her time, Bedford Hills Correctional Facility, was once widely known as a state death row for women, administering capital punishment until the practice was banned about a decade ago. Per the "send me a letter" line, Remy also notably wrote a widely circulated open letter to fans while behind bars.
"Know she'll never be queen, so now she got a vendetta," Minaj raps later in the next lines, likely a nod to the shots Ma took at Minaj on "ShETHER." "I ain't talkin' 'bout David when I say I'ma Guetta." The way Minaj articulates "Guetta," it sounds like she's saying "get her."
The rest of the song strays from that rap posturing, morphing into a more standard hip-hop love song, but the opening shots seem to echo throughout the track. Minaj issued a challenge to Remy Ma after releasing "No Frauds," the star-power response to Ma's two diss tracks, the venomous "ShETHER" and the slightly less vibrant "Another One." The Trini queen dared Remy to fire back with a hit in the next 72 hours, also betting Ma $500,000 that she couldn't book a single interview without mentioning Minaj's name. 
Ma never responded, but it's clear Minaj isn't done baiting her rival. This is likely the way it's going to be now for the foreseeable future. Minaj will continue aiming veiled disses her rival's way to keep the media attention trained on them, while Ma plans her next move.
More Nicki Minaj news and updates
Mic has ongoing coverage of Queen Nicki Minaj's reign. Read an analysis of her latest charting song "Make Love," a rundown of her best quotes shutting down sexism and speaking fierce, feminist truths and a clip of her roasting President Donald Trump for his "bad hombres" comment from the third presidential debate. Also check out a rundown of eight songs that prove she's the queen of rap and a look at everything we know about her coming album.