Gorillaz' New Album 2017: 'Humanz' release date, tracks and more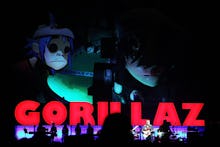 After a nearly six-year hiatus, the Gorillaz have begun rolling out details about their highly anticipated new album Humanz, which drops Friday, April 28. They are also premiering a new song from the project called "Ascension," feat. rapper Vince Staples, on Apple Beats 1 at 3:45 p.m. Eastern today. 
The group made the official announcement Thursday afternoon via Instagram, where they are posting collages of artists set to be featured on Humanz. Judging by the photos, the album taps veteran and contemporary recording artists across a variety of genres, including Kelela, Popcaan, Kali Uchis, D.R.A.M., De La Soul and Grace Jones. 
Tracks
So far a full tracklist has not been revealed, but the group added four new tracks to Tidal today, according to Pitchfork. This includes "Ascension"; "We Got the Power," featuring Jehnny Beth of Savages; "Saturnz Barnz" featuring Popcaan; and "Andromeda," feat. D.R.A.M. The songs can not be streamed yet.
Back in January, the group returned with their first new song of the year, called "Hallelujah Money," which took aim at President Donald Trump.
Tour
Before announcing their new album, the Gorillaz revealed they would be headlining their new music festival Demon Dayz — named for their second studio album — at Dreamland, Margate, in the U.K. The festival is being held June 10 and a full lineup is still TBA. Tickets went on sale March 10 and range from £60 to £90. VIP tickets are already sold out. More information can be found here. 
Mic has ongoing coverage of the Gorillaz. Please follow our main Gorillaz hub here.