This Republican senator is A-OK with women's health care cuts — because he's not a woman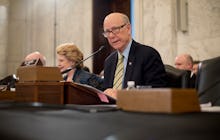 As women stare down the barrel of the GOP's new health care plan — which threatens to severely limit or otherwise eliminate their access to birth control, maternity care and abortion — some men in the U.S. Senate seem to be cracking jokes.
When Talking Points Memo reporter Alice Ollstein caught up with Sen. Pat Roberts (R-Kan.), he said he wasn't too worried about losing the Affordable Care Act's essential health benefits because most of the provisions don't apply to him.
"I wouldn't want to lose my mammograms," Roberts told Ollstein.
Along with emergency services, hospitalization and mental health care, the ACA's "essential health benefits" require insurance companies participating in ACA marketplaces to cover things like pregnancy, maternity and newborn care, preventive services — like mammograms and cancer screenings — and pediatric care. 
One would think Republicans like Roberts, who usually have strong anti-abortion stances, would at least advocate for government spending to help the women whom they'd like to force into having children. One would be wrong. 
In fact, it's becoming increasingly clear that many men — and male legislators in particular — can't find a single fuck to give about women's health. A new survey from PerryUndem found that 52% of men don't believe they've personally benefited from women's access to affordable birth control. 
The survey arrived on the heels of equally maddening remarks from Mississippi state Sen. Chris McDaniel — who, in January, wondered why he should fund birth control for "unhappy liberal women" — and Rep. John Shimkus (R-Ill.), who objected to the idea of men having to purchase prenatal care.
Roberts apologized for his own remarks later on Thursday, tweeting that he "deeply regrets" what he said. "Mammograms are essential to women's health and I never intended to indicate otherwise," he wrote.
It's unclear, however, what Roberts was trying to indicate with his comments in the first place.