#WeFightBack protesters are storming the halls of Congress to send a message to the GOP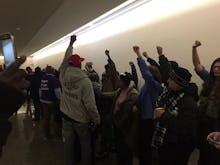 With Republicans expected to vote on the American Health Care Act on Thursday, protesters fighting against the legislation gathered in Washington to make their opposition known. 
Social media posts showed that groups of protesters assembled for a rally in Washington's Freedom Square, while others marched through the halls of Congress to deliver a message straight to Speaker of the House Paul Ryan (R-Wis.) and other lawmakers behind the proposed health care overhaul.
One video shared on Twitter featured demonstrators outside Ryan's office as one of his constituents, a demonstrator named Maureen, led a crowd in repeating after her: "Paul Ryan, we're in crisis. We need our health care. We rely on the Affordable Care Act to save our lives."
Also on Thursday, demonstrators gathered in Freedom Square for a rally in support of the ACA. Demonstrators held signs emblazoned with the messages "Let Us Live" and "We Fight Back." Planned Parenthood president Cecile Richards spoke at the event, warning that repealing the ACA could hurt vulnerable communities.
The Republican health care plan would result in 24 million Americans losing their insurance by the year 2026, according to the Congressional Budget Office. Republican lawmakers reportedly began adding changes to the bill late Wednesday, but the full extent of those changes have yet to be announced.