Why is Reid in jail on 'Criminal Minds'? Here's how the doctor found himself behind bars.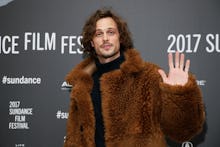 Dr. Spencer Reid, the socially awkward genius on CBS drama Criminal Minds, found himself on the other side of the law when he landed in prison after being accused of murder in episode 13, "Spencer." To make matters worse, after being incarcerated he was attacked in prison during episode 16, "Assistance is Futile." But what were the circumstances leading up to his arrest?
Played by Matthew Gray Gubler, Reid had been sneaking across the border to Mexico to obtain a mysterious medication for his mother. 
Reid was accused of possession of drugs — a relatively light charge considering the heroin and cocaine police found in his system — and was also charged with the murder of Rosa Medina, who was found stabbed in the motel room where she met with Reid to hand off said drugs — and where Reid himself was drugged, leaving him with little memory of what actually happened. 
So far it's unknown who is setting Reid up or why, but it's clear that his troubles are far from over. Rosa was an American citizen, so Reid is moved back to the States — but he can't be represented by the FBI's lawyers because he wasn't in Mexico on government business. 
Reid's friend in prison, former FBI agent Calvin Shaw, seems to know more than he's letting on, but it's clearly an effort to protect Reid.
Mic has ongoing TV coverage. Please follow our main TV hub here.