'Ink Master' winner Ryan Ashley to star in 'Angels' special with Kelly Doty and more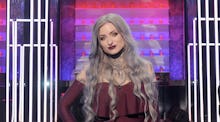 Ink Master is getting another special — this time starring the show's top female tattoo artists. Following the ratings success of the season eight finale in December, Spike TV has announced that they are greenlighting Ink Master Angels.
Ink Master Angels will bring back season eight winner Ryan Ashley, as well as fellow season eight female competitors Kelly Doty, Nikki Simpson and Gia Rose. According to a press release, the one-hour special will debut later this year and follow the artists as they go "head-to-head with some of America's most talented tattoo artists." Just like the regular competition series, they'll have to participate in challenges to see who will come out on top.
The announcement comes after the series named Ashley as the first female winner. Early on in the competition, Ashley formed an alliance with Doty, Simpson and Rose. The four women maintained a friendship throughout the competition, ultimately becoming a support group, according to Kelly.
On top of a female special, Spike TV has also renewed Ink Master for a 10th season, set to air in 2018 under the network's new name, Paramount Network.
"I'm so pleased to see Ink Master reach a milestone 10th season as it continues to be a great ratings driver for the network," Chachi Senior, senior vice president of original programming at Spike, said in a statement. "The franchise has shown such amazing growth with our female audience that it is a natural progression to launch a female-fronted standalone competition, as well."
Ink Master season nine will air in June.
Mic has ongoing coverage of Ink Master. Check out our main Ink Master hub here.