When will GameStop Restock Nintendo Switch? More bad news if you don't like bundles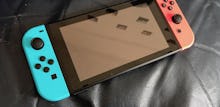 The Nintendo Switch GameStop restock is not going well for those who hate bundles. Earlier this week, the video game retailer promised buyers new stock of the Switch. The next day, many GameStop stores didn't see a Nintendo Switch restock at all. Some stores saw about five units while others mysteriously didn't receive stock at all. It's now two days after the promised "restock" and things are looking bleak for potential Switch buyers.
Put briefly, you're best bet at this point is to just give in and buy a Nintendo Switch bundle from GameStop.
GameStop Nintendo Switch restock: Don't want the bundle? You're in for some bad news ... 
GameStop promised buyers more Nintendo Switch stock and fans readied themselves. Not only did people try to buy the console, some people stood in line and waited for hours:
Some buyers like aj2112 on Reddit waited on line for the Switch, only to find out the shipment of consoles actually came the day before. Other GameStop stores haven't even received any units of the Switch, today or yesterday.
Some people successfully bought a Switch, but not many ...
Few Nintendo fans are thrilled with the idea of being forced to buy unwanted games along with their Switch system in the form of bundles, but some are buckling under the pressure. Such as Unicyclist1 on Reddit and @Sam_Thurman on Twitter.
Of the GameStop stores we called in New York, most were only selling the Nintendo Switch as part of a bundle. Some stores had actual stock to sell to customers (in a bundle) that day, others were orders placed online that would be shipped to the buyer's home. Those shipments would go out on March 31 or later. 
Bundle prices ran $400 and above, depending on what games you elected to buy with the system. A collector's edition Zelda bundle, for example, cost $460 at Rockefeller Center's GameStop, while buyers could walk out of the downtown Brooklyn GameStop location after paying $402 for the Switch, Super Bomberman R and 1-2-Switch.
Interestingly, another running theme was the absence of the neon Nintendo Switch color. If you were hoping to get a Switch with bright orange and blue controllers, you'll have to settle for gray instead. 
GameStop Nintendo Switch restock: Can you buy the console on its own?
At this point, it's nearly impossible to find a GameStop selling the Nintendo Switch on its own. GameStop stores we contacted on Thursday steered us towards buying the bundle online. One store had a shipment of five arrive today, but sold out within minutes in the middle of the day to buyers eagerly awaiting the shipment.
If you're still holding out hope, call your local store in advance to scope out the situation. You won't be able to put one on hold, but you may save yourself some time before heading to a store with absolutely no Switch stock at all. While you're at it, call up Best Buy, Target, Walmart and Toys R Us, who tells Mic there will be new stock in stores starting March 25. 
March 23, 2017, 5:30 p.m. ET: This story has been updated
Check out more Nintendo Switch news and coverage here
Looking for more Nintendo Switch news? Check out how blind gamers are using the Nintendo Switch. Nintendo's left Joy-Con issue turns out to be a hardware problem, find out how to solve it. Find out how to buy one amidst the recent restock. Learn why the Switch cartridges taste so bad. Check out our comparison photos sizing up the Switch to the Wii U GamePad (part one and part two), find out how to make use of ethernet without the dock and the best way to get alerts when new stock arrives.