'Real Housewives of New York': The 14 best 'RHONY' moments to ever air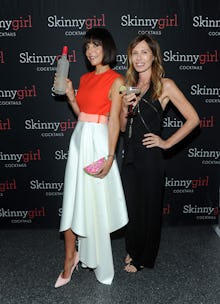 The women of New York City are back for season nine. 
Over the course of eight seasons, the Real Housewives of New York City has been one of the franchise's best series. New York City has consistently provided us with countless unforgettable fights and dramatic moments. It has also gifted us with some of the best Real Housewives from the entire franchise. 
Thanks to the mayhem, feuds and tears, we're always looking forward to a brand-new season of the show. Over the years, RHONY's best moments have ranged from the surprisingly emotional to the downright dirty. 
Here are the best and most memorable moments from the Real Housewives of New York City.
1. Luann vs. Bethenny
"December: Berkshires County" is one of the best episodes of the Real Housewives of New York City for countless reasons. 
Not only is it absolutely absurd from start to finish, it delivered the series' most haunting fight. Luann D'Agostino and Bethenny Frankel go at it like never before. Bethenny slut-shames Luann and calls her a liar, a snake and a cheat, and Luann smokes on-camera. That's how exhausting their fight is. 
It also gave us Dorinda Medley's impassioned speech about cooking, cleaning and making it nice, after dealing with the women yelling all day. 
2.  "Sun, Sand and Psychosis" episode 
Also known as "Scary Island," the most memorable episode from season three is an all-time best moment in and of itself. The women traveled to St. John and things did not go as planned. 
Kelly Bensimon went off the rails, making for one of the show's unforgettable fights. Kelly kept on insisting that Bethenny was trying to kill her, that she was having nightmares about her and that Bethenny wasn't really a chef, she was just a cook. Bethenny had enough of Kelly's crazy, so she told her to "Go to sleep! Go to sleep!" and the moment became Housewives history. 
3. Jill and Bethenny's breakup 
What we often forget is that behind all the yelling and silly banter, some of the Real Housewives are actually good friends. 
Bethenny and Jill Zarin became fan favorites when the show premiered in 2008 thanks to their adorable friendship. They were buddy-buddy for the first two seasons, but things turned sour between filming seasons two and three. 
The two had a falling out over Bethenny's immediate fame, and Jill accused her of not being a friend when she needed her most. There were accusations that Jill had leaked stories to the press; Bethenny told Jill to get a hobby and then Jill had Bethenny on speakerphone when she broke up with her, telling her she was done. 
4. Dorinda and Carole bond 
The franchise does not get enough credit for having some very genuine moments. 
Amid all the fighting, yelling, bickering and backstabbing, the women have still been able to bond with one another, like Dorinda and Carole Radziwill took a trip to London in season seven, episode 17, and commiserated over how they both lost their husbands. 
It was a cathartic experience for Dorinda and Carole, and a refreshing episode for viewers. They came together over the memories they shared with their late husbands, how they dealt with the tragic deaths and how they were changed by them. It's an episode that proves the show can be more than just the fighting. 
5. Kelly vs. Bethenny 
Before Kelly and Bethenny had their explosive blowup on Scary Island, the two had another moment together in season two. 
Kelly had just joined the show and Bethenny wasn't really meshing well with her. The two had some words and Kelly asked Bethenny to meet for drinks to try and clear the air. Kelly was late for her own planned meet-up, causing Bethenny to wait. And when Kelly finally arrived, she had no real desire to mend her relationship with Bethenny. 
6. Luann vs. Carole and Heather
While the women were away in the Turks and Caicos, they played. 
Out the night before, Luann returned home with a guy. The man slept over and, unfortunately, he stayed the morning, much to the surprise of Carole and Heather Thomson. They were startled to see the man naked in one of the home's bedrooms, and Heather, in particular, was shaken to her core. 
It's the moment that Luann made everyone seem uncool by being so cool. As the women accosted her for having a man in their house while they were sleeping, Luann just brushed it off in the most countess-like way ever.
7. The text
Season eight of RHONY was, without a doubt, the show's most drama-filled. For fans of the series who watch it solely for the fights and the theatrics, this season was as good as a Real Housewives season could get. 
At the end of the season, Luann and Bethenny's relationship had fallen apart. After their fight at Dorinda's house in the Berkshires, the pair remained at odds, but everything really hit the fan when the women took a trip to Miami. Bethenny received a text that included a picture of Luann's then-fiancé, now husband, Tom D'Agostino, cheating on her. 
Bethenny contemplated when and how to show Luann the picture. It was a delicate subject to broach, and it ultimately tore them apart. Luann cried, Bethenny cried, we all cried.  
8. The leg toss
Season six of RHONY isn't exactly one of the better installments. While there was some great tension between a lot of the women, there was only one clearly defining moment. 
It was the scene that caused the series to jump the shark (but it has since been able to recover): After getting into fights with nearly all of the women during her final season, two-season cast member Aviva Drescher made sure you'd remember her name. In season six, episode 20, aptly titled "The Last Leg," Aviva couldn't stand it anymore. 
The women were accusing her of being fake, of lying to most of them and for causing drama to get attention. After being accused by her fellow cast members for being such a villain, she took matters into her own hands. Or rather, she took off her prosthetic leg and threw it across the room. It's a moment we would rather forget, but simply can't. Luann's reaction said it all.
9. Bethenny's return
The woman who tops our list of the greatest Real Housewives ever, Bethenny Frankel, returned to the show in season seven.
Bethenny became famous in part thanks to the series. When her Skinnygirl brand took off, Bethenny left the show at the end of season three. She returned to the show better than ever and gave it a second life. After the leg toss seen around the world, Bethenny was able to bring some reality, drama and hilarity back to the show. 
10. Bethenny's breakthrough attempt
Bethenny came back with a vengeance. 
A lot happened while the women were in Turks and Caicos. One of the more memorable moments was when Bethenny tried to have a breakthrough with Sonja Morgan. The girls were accusing her of having a drinking problem and Bethenny wanted to help. 
After talking in circles with Sonja for what felt like hours, Bethenny had enough. She simply barked, "Shut the fuck up!" after failing to get through to her. Welcome back, Bethenny. 
11. The divorce saga
Ramona Singer and her husband Mario finalized their divorce in 2015. For Ramona, it was a particularly trying experience because Mario cheated on her with another woman. Bethenny also dealt with her own divorce drama over the years with her estranged ex-husband, Jason Hoppy. 
While the two women were together in the Turks and Caicos, they realized they had more in common than they thought. Although they started the season off on bad terms, the two became each other's rocks. While their trip was filled with the usual fights, the women bonded over their recent marital struggles and had a very cathartic cry. 
12. Sissy that walk, Ramona 
The Real Housewives of New York City doesn't get enough credit for how funny it is. Of all the cities, it's the biggest comedy of the franchise because the women are such characters. 
We couldn't forget Ramona's iconic runway walk. There isn't much else to add because the GIF of it says it all. Ramona was asked to walk during New York Fashion Week and did she ever walk. Never change, Ramona. 
13. Mean Girls: Brooklyn
In season three, Alex McCord gave herself one defining moment. After having enough of Jill and becoming sick of being put between her and Bethenny, she exploded at a party. There really wasn't much to their argument except for the fact that Jill said some shady things about Alex's children and her husband. Well, Alex let it build up all season until she went off and gave herself her most unforgettable scene.
14. That time Sonja lost her tooth
Speaking of comedic moments, this list could be entirely made up of Sonja's scenes. 
In season seven, Bethenny hosted a Skinnygirl event and invited the women. The event was also an attempt at matchmaking, and Bethenny was hoping to set up some of the single women like Sonja and Ramona. Well, Sonja found a potential suitor, and after trying to rip his shirt open with her teeth, a tooth flew out of her mouth. 
RHONY season nine premieres on Bravo on April 5 at 9 p.m. Eastern.
Mic has ongoing Real Housewives coverage. Please follow our main Real Housewives hub here.