Gorillaz 'Humanz': Band releases 4 tracks featuring Popcaan, D.R.A.M., Vince Staples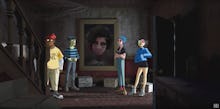 After nearly six years in limbo, Gorillaz, the animated musical brainchild of Blur frontman Damon Albarn and animator Jamie Hewlett, are back with new music, releasing an onslaught of new media Thursday afternoon. 
Joining DJ Mistajam on BBC Radio 1, Albarn premiered two new tracks: "Andromeda" featuring D.R.A.M. and "Saturn Barz" featuring Popcaan, also releasing accompanying music videos in two formats — 3D and 2D — on the band's YouTube. On the United Kingdom's Radio X, the group premiered "We've Got the Power" featuring Savages' Jehnny Beth and "Ascension" featuring Vince Staples on Beats 1 Apple Music.
It's a welcome return for their fan base, which only a few years ago assumed they would never hear another record from the genre-bending animated simian crew.
In a 2012 Guardian profile, Albarn detailed the widening rift between he and his co-founder Hewlett, saying new music would be "unlikely." The split turned out to be short-lived, however. Two years later in 2014, Albarn said he and Hewlett were in the process of resurrecting the group and prepping for a 2016 release.
The band announced the title for their next record, Humanz, on Thursday ahead of the track releases. The album will drop April 28 and features a wide range of additional contributions from Danny Brown, Mavis Staples, Carly Simon, Grace Jones, De La Soul, Pusha T and Kelela. Thursday's four songs follow the group's haunting President Donald Trump indictment, "Hallelujah Money," which featured vocals from 2015 Mercury Prize winner Benjamin Clementine. 
Originally, the album was designed to explore a "dark fantasy," Albarn explained on BBC Radio 1. "Just imagine the weirdest, most unpredictable thing that changes everything in the world," he said. "How would you feel on that night? Would you go and get drunk? Would you stay at home? Just watch TV? Would you talk to people?"
However, following Trump's surprise victory in November, the album took on an entirely different meaning. "I suppose we were imagining the idea of Donald Trump. It's not about Donald Trump at all. But it was imagining that, in a way. That was our dark fantasy, and unfortunately that became our reality."
Check out the twisted, hallucinatory 2D video for "Saturnz Barz" along with simpler animations for the other three tracks via YouTube below.
"Saturnz Barz" featuring Popcaan
"Ascension" featuring Vince Staples
"We Got the Power" featuring Savages' Jehnny Beth
"Andromeda" featuring D.R.A.M.
More Gorillaz news and updates
Mic has ongoing coverage of Albarn and Hewlett's animated band. Read a rundown of the band's past influence on hip-hop and music visuals, along with a recap of all the rumors surrounding their upcoming album. Check out details about the album's collaborators and release date here and a review of their "Hallelujah Money" music video. We included Humanz on our most highly anticipated albums of 2017.