John Mayer "Still Feel Like Your Man": Lyrics to the breakup song about Katy Perry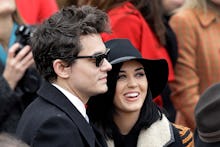 John Mayer is pulling a Taylor Swift and writing about a former love. The 39-year-old singer and guitar player revealed on Thursday that his new song, "Still Feel Like Your Man," is about his ex-girlfriend, Katy Perry.
"Who else would I be thinking about?" Mayer told the New York Times. "And by the way, it's a testament to the fact that I have not dated a lot of people in the last five, six years. That was my only relationship. So it's like, give me this, people."
Perry and Mayer had an on-and-off relationship. They reportedly began dating in August 2012, but had broken up by March the following year. They rekindled their romance again a few months later, but split for good in February 2014. Perry went on to date Orlando Bloom, but the two recently ended their relationship.
"Still Feel Like Your Man" lyrics and audio
"Still Feel Like Your Man" is off of John Mayer's new album, The Search for Everything. Check out the lyrics below, courtesy of Genius, to see what Mayer has to say about Perry a little over three years after their breakup.
I still feel like your man
The prettiest girl in the room she wants me
'Cause I still feel like your man
I still keep your shampoo in my shower
I still feel like your man
I still feel like your man
(Ever since the day we met, ever since the day we met)
'Cause I still feel like your man
I still feel like your man
I still feel like