As Republicans delayed a vote on health care, Donald Trump pretended to be a truck driver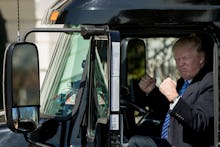 As House Republicans moved to delay a vote on the American Health Care Act on Thursday — thanks to a lack of support among their own ranks — President Donald Trump was living out every young boy's dream of getting to honk the horn of a big-rig truck.
Truckers and industry CEOs brought a big-rig to the White House ahead of a meeting with the president to discuss their health care concerns. Trump seemed to thoroughly enjoy himself, hopping into the cab of the truck to toot the horn and pretend to drive away.
Just as Trump sat down to speak with the truckers and their CEOs, House Republicans delayed the AHCA vote.
Unfortunately for Trump, no one had told him the vote was postponed.
"Today, the House is voting to repeal and replace the disaster known as Obamacare," Trump, sporting an "I Heart Trucks" button on his lapel, said just as decision to delay came down. "We'll see what happens. It's going to be a very close vote."
The cringeworthy lack of knowledge that the vote had been delayed continued.
"I'm not going to make it too long, because I have to get votes," Trump told the truckers about why the meeting would be short. "I don't want to spend too much time with you. I'm going to lose by one vote and then I'm going to blame the truckers."   
Already seeking to deflect blame for the bill's lack of support, a White House spokeswoman told Time the vote was delayed because Republicans didn't want to pass the legislation "in the wee hours of the night." 
What the White House failed to mention, however, was that at least 30 Republicans currently plan to vote no on the legislation — a tally that grew as Thursday wore on. 
Republicans are reportedly slated to vote on the AHCA on Friday, but it's unclear if they'll have the votes to pass it.