Reality TV contestants living in the wilderness didn't realize their show wasn't airing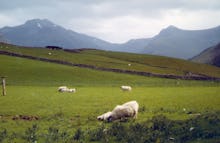 Twenty-three people moved out into the wilderness in the West Highlands of Scotland to film a reality show called Eden. The reality series was designed to be an experiment, leaving the contestants alone for a year to "create a new model of society," according to the U.K.'s Press and Journal. Unfortunately, the show stopped airing after four episodes — and no one told the remaining contestants still living out in the Scottish Highlands.
The Telegraph reported that the 23 participants were left in the wilderness and cut off from the outside world. They were given enough supplies to survive and tasked with building a new community in a year. Filming for the reality series began in March 2016, and the first episode aired on Channel 4 that July. By the time the fourth (and final) episode aired, eight of the 23 contestants had already quit the series. Now, a year later, the cast is finding out that the show hasn't aired since August.
The Twitter account for the show, which was updating viewers on the progress of the contestants, stopped tweeting in October.
The tweet below was the last tweet sent from the account. Not exactly a "happy Friday" for the poor bloke who thought he was becoming a beloved reality star and friend to goats.
Fortunately, it doesn't sound like the contestants completely wasted their time. In January, the Eden Facebook page began responding to concerned viewers who wanted to know what happened to the series.
"Eden is due to come back during 2017, so you will be able to catch up on what's gone on," the account responded to one Facebook user's comment. "We will let you know asap when we're due back on air."
Another Facebook user questioned why the show stopped airing episodes. The account replied that it was "intended to stop after the first batch."