When will GameStop have NES Classic Stock again? Don't hold your breath for a restock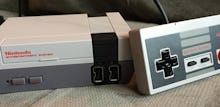 The NES Classic Edition may be the only gaming product more out of stock than the Nintendo Switch at the moment. Those who've tried to buy a Switch — not just from GameStop but across the board — know how difficult one can be to come by right now. 
It appears the NES Classic Edition, Nintendo's re-release of its first game console, is in even worse shape. If you were hoping to buy the NES Classic from GameStop, well we have some bad news for you.
When will GameStop have NES Classic stock? No clear answer
We reached out to many local GameStops in our area about purchasing an NES Classic to no avail. Not only that, but some store employees claimed GameStop had reached out to their Nintendo representative for more stock, but never heard back. Some stores also told us they've had a very hard time getting new stock of the NES Classic Edition, while others simply claimed the gadget was discontinued. 
In GameStop's defense, the NES Classic is no longer sold at other stores like Best Buy and Target either. Though you can buy it on Amazon for over the twice the original price or at Walmart for even more.
When will GameStop have NES Classic stock? Is this the end?
Signs point to this being the last we'll see of the NES Classic Edition (for now?). But those hoping to play NES games on their television still have options. Options that don't include buying an original NES on eBay which runs for — and this is the "brand new, lowest price" — $1,049.94.
If you have a Nintendo 3DS or Wii U, both consoles let you play many of the same games on your newer devices, thanks to the eShop's virtual console. The Nintendo Switch is expected to eventually get the virtual console as well. Rumors even exist surrounding GameCube games coming to the Switch as well.
Aside from that, judging by the success of the NES Classic Edition, we could see classic versions of Nintendo's other consoles as well. Nintendo has yet to announce a SNES or N64 classic edition, but even the sound of that makes us want to fire up some Mario Kart 64.
Check out more Nintendo console news and coverage
Looking for more Nintendo Switch news? Learn why the Switch cartridges taste so bad. Check out our comparison photos sizing up the Switch to the Wii U GamePad (part one and part two), find out how to make use of ethernet without the dock and the best way to get alerts when new stock arrives.