'NBA 2K18' Release Wishlist: Hefty players and 5 other things that should be in the game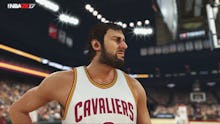 When you're creating a MyPlayer or just a player for a roster in NBA 2K17, it's impossible to create a hefty guy. Hopefully, the upcoming NBA 2K18 will include a fix for this oversight along with any other improvements.
On that note, here are six things we hope to see added in NBA 2K18. The game still doesn't have a set release date, but it's expected to launch this September. So there may still be time to include a few missing features from the popular franchise.
NBA 2K18 release wishlist: Hefty MyPlayers
Not everyone is chiseled out of granite. Even past and current NBA players have had a little flab on their frames. Anyone remember Oliver Miller or a less-than-svelte Shaquille O'Neal later in his career. NBA 2K18 should allow you to create players with less-than-athletic frames.
NBA 2K18 release wishlist: More badges
The badge system in NBA 2K has become a major aspect of the progression process, and it also helps to give players some specific individual abilities.
There's already a number of badges available in the game, but there's room for more.
One that could help acknowledge a player like Oklahoma City Thunder star Russell Westbrook's impact is a badge called Triple-Double.
Westbrook is well on his way to averaging a triple-double for the 2016-17 season. There should be a badge that results in a boost to his teammate's ratings in a game once a player has recorded a triple-double.
NBA 2K18 release wishlist: Draft mode in MyTeam
Madden NFL and MLB The Show have a draft feature with their card-collecting modes, so why doesn't NBA 2K?
Madden NFL revolutionized the card-collecting concept with its draft champions mode, and it led to a compelling eSports initiative.
Sony followed suit with battle royale in its diamond dynasty mode. NBA 2K, it's your turn.
NBA 2K18 release wishlist: Salary cap mode in MyTeam
This may sound like a broken record, but Madden NFL and MLB The Show have a salary cap-restricted feature within their card-collecting modes, so why doesn't NBA 2K?
The salary capped ranked mode was a huge plus for ultimate team in Madden 17. MLB The Show 17's diamond dynasty has some salary cap-restricted missions.
Again, NBA 2K needs to add this to MyTeam this year.
NBA 2K18 release wishlist: Documentary Style Narration in MyCAREER
For the first time, it feels as if NBA 2K is a little bit behind some of the other sports video game series.
MLB The Show's Road to the Show probably won't have as much personality as NBA 2K's MyCareer, but that might wind up being a positive for Sony.
Road to the Show is taking a documentary style approach and that's something the folks at NBA 2K should consider. Every year, NBA 2K has given its fans a different story to follow, but perhaps it's time to let the gamer completely write the story with only a narrator to outline the events.
NBA 2K18 release wishlist: Tattoos for created players
Tattoos can be added to MyPlayers, but not to the players you create for rosters. This makes no sense, yet it's been this way for years in the game.
If roster and player creators want to create a heavy-set guy with tattoos that cover his entire body, they should be able to do just that.
More sports gaming news and updates
Are you a sports gamer? Check out more content from Mic, including tips for leveling up your NBA 2K17 MyPlayer, playing quarterback in Madden 17, the latest information on MLB The Show 17 and the classic Nintendo sports games we want to see on the Switch.