3 key takeaways from Republican's decision to postpone the health care vote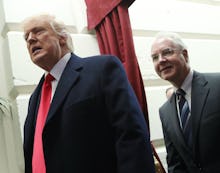 On Thursday House Republicans delayed a vote on their own health care bill, the American Health Care Act, after it became clear they did not have enough Republican support to pass the bill. President Donald Trump is planning on meeting with Republican holdouts this evening and some GOP leaders say their could be a vote as early as Friday morning. Still a lot seems uncertain. Here are three key takeaways from the decision to delay the vote.
Republicans have a moderates problem
Though the lead up to the delayed vote centered on whether or not Trump and Paul Ryan could appease conservatives in the House Freedom Caucus who wanted to make the bill even more conservative. But as word spread that Trump was considering meeting those demands, Republican moderates like Rep. Charlie Dent (R-Pa.) started coming out against the bill.
"I believe this bill, in its current form, will lead to the loss of coverage and make insurance unaffordable for too many Americans, particularly for low-to-moderate income and older individuals," Dent said in a statement.
In addition Representatives Jaime Herrera Beutler (R-Wash.) and Mark Amodei (R-Nev.) both also announced their opposition to the bill.
The freedom caucus doesn't know what it wants
The conservative House Freedom Caucus has been intent on extracting concessions from Trump and House Speaker Ryan. But the exact nature of those concessions have been hard to pin down. Most of the coverage has centered around a demand that the bill get rid of Essential Health Benefits, a number of mandatory health insurance coverage requirements that range from maternity care to hospitalization — yes, they really want to make hospitalization an optional part of health insurance.
There's just one problem, the so called Byrd rule— the method Republicans plan to use to bypass the Senate filibuster — very likely prohibits repealing these provisions using the reconciliation . That means conservatives are wagering the fate of the bill on a provision that will likely have to be rejected for procedural reasons. 
Trump doesn't actually care what's in the bill
Perhaps the least surprising takeaway from this delay is the extent to which it reveals the president of the United State's utter indifference to the actual substance. 
One aide told CNN that when it comes to details, Trump "either doesn't know, doesn't care or both." The changes on things like essential health benefits illustrate Trump's total lack of concern with what the bill actually does, despite his repeated promises about how great the bill would be.