CBO report on the latest version of the GOP's health care bill is even worse than before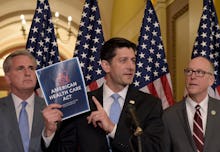 House Republicans had a downright awful day Thursday when it came to their proposed health care bill. More and more GOP legislators announced they could not support the legislation — enough defectors to get House Republican leadership to delay a vote on the bill until Friday morning.
Yet a new report released Thursday from the Congressional Budget Office could put Friday morning's already shaky vote in even more jeopardy, as it showed that not only will the same number of people lose their coverage under the revised bill, but it actually lowers the amount of cost savings. 
Earlier this week, House Republicans amended the American Health Care Act in an effort to appease House conservatives. The new additions to the bill repeal taxes created by the Affordable Care Act in 2017, rather than in 2018. The new bill also lowered the amount Americans could deduct from their taxes to 5.8%, down from 10% in the original bill.
The CBO, a nonpartisan federal agency that provides economic analysis for the legislative branch, found the changes made to the bill do not impact their assessment of the initial bill that 24 million Americans will lose health care coverage by 2026. 
And the news gets worse for Republicans: The changes lowered the amount the bill would save over the next 10 years by $187 billion. The CBO projected the initial bill would save $337 billion over the next 10 years, while the CBO estimate of the new bill shows $150 billion in savings over the same time period. 
It was not immediately clear whether the new CBO score would change Republican plans to put the AHCA up to a vote Friday morning.
But top White House officials — including White House chief of staff Reince Priebus, top White House strategist Steve Bannon and OMB director Mick Mulvaney — all headed to Capitol Hill to meet with Speaker Paul Ryan.