Trump will give up on repealing Obamacare if the House vote fails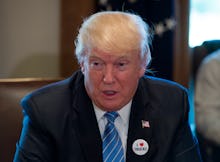 Trump will reportedly give up on health care reform if the Republican health care bill does not pass on Friday, according to Politico. 
"If the president doesn't get a vote to repeal and replace Obamacare, he will move on to other priorities," White House Office of Management and Budget Director Mick Mulvaney said according to NBC News.
That ultimatum suggests that the Affordable Care Act could remain in place for the duration of Trump's presidency if Republicans fail to coalesce around a plan. Republicans have been promising to repeal and replace the ACA for seven years.
On Thursday, House leaders decided to delay the vote at the last minute, rescheduling it for Friday. Asked why they were delaying the vote, White House press secretary Sean Spicer told Fox News, they wanted to pass the bill in the "daylight." 
"We could have continued through the night and voted in the middle of the night, that's what Democrats have done in the past." Spicer said. "That's not what we were going to do. We wanted to do this in broad daylight tomorrow, when every one of the American people can see not only the bill that we put online days ago for everyone to read, but actually watch the debate take place and watch the vote go down."
Americans are expected to get to watch the future of the American health care system unfold tomorrow, in broad daylight for all the world to see. That is, unless they delay it again.