More details about Khalid Masood, the London attacker, are released by police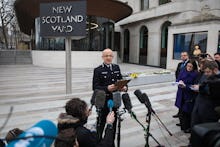 The suspect in London's terrorism attack outside the Houses of Parliament Wednesday — which left four dead and some 50 injured — initially identified as Khalid Masood, was born with the name Adrian Russell Ajao, British law enforcement said Friday.
"Yesterday we named the dead terrorist as Khalid Masood — we stated he had a number of aliases — we now know his birth name was Adrian Russell Ajao," Acting Deputy Commissioner Mark Rowley told reporters in front of New Scotland Yard in London.
"I would like to put on record my gratitude to the journalists who, having identified the dead terrorist soon after the attack, have delayed publishing his details at my request to give us space to move on the necessary warrants, searches and arrests," he added.
Rowley noted law enforcement officials made two more "significant arrests" during the previous night. Nine people are currently being held in custody, with one woman on bail.
Detectives believe 52-year-old Ajao, born in Kent, likely converted to Islam late in life. He had a criminal record spanning two decades — including a series of minor offenses — but did not actually face any criminal charges at the time of the attack. While law enforcement had previously investigated him over suspicions of extremism, Ajao was ultimately not found to be high risk.
Though ISIS took responsibility Thursday for the attack, the claim is thus far baseless.
Ajao drove an SUV into crowds on Westminster Bridge, outside Parliament, killing pedestrians before getting out of the car and stabbing a police officer to death as he approached the historic government buildings. Ajao was fatally shot by law enforcement officers on the scene.