Toronto bans all official school trips to the US over concerns about the travel ban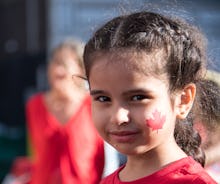 Canada's Toronto District School Board announced Thursday it will suspend all new school trips to the United States, citing concerns over President Donald Trump's travel ban. The TDSB serves 584 schools and nearly a quarter million students. 
The 24 trips already scheduled will not be cancelled, but they will not proceed if U.S. immigration officials deny the entry of any member of the group traveling with requisite documents. However, if the executive order is approved and effects any TDSB student's ability to travel, all scheduled trips will be cancelled.
Though federal judges have ruled against Trump's revised travel ban — a de facto Muslim ban, targeting six Muslim-majority countries — and the executive order's future hangs in the balance, customs and immigration officials have reportedly become more hostile under the new president's administration. TDSB made this "difficult choice," therefore, to avoid potentially putting students in circumstances that undermine "fairness, equity, and inclusion." 
Via a statement issued by Director of Education John Malloy Thursday, the board explained its reasoning. 
"We do not make this decision lightly, but given the uncertainty of these new travel restrictions and when they may come into effect, if at all, we strongly believe that our students should not be placed into these situations of potentially being turned away at the border," Malloy said. 
"If we have instances of our students being denied entry to the U.S. for no legitimate reason, the group will turn around and head home," Ryan Bird, TDSB spokesperson, said in a phone interview. "The reason why is we pride ourselves on being an equitable and fair school board. ... We want students to know we have their back when it comes to equity and inclusiveness."
The TDSB's decision comes just ten days after the Girl Guides — the Canadian equivalent of the Girl Scouts — announced it would avoid traveling to the U.S. in response to the proposed travel ban. 
"Our operational decision to limit U.S. travel at this time was a difficult one to make, but one based solely on ensuring all girls and women in Guiding can fully participate in our Guiding trips, no matter the destination," Girl Guides said in a statement, which echoed Malloy's.
March 24, 2017, 3:57 p.m. Eastern: This story has been updated.