Kendrick Lamar's "The Heart Part 4": A breakdown of the lyrics taking aim at Trump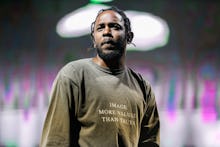 Kendrick Lamar is the latest artist to take aim at President Donald Trump on wax. The Compton emcee made the political comments on his new record "The Heart Part 4," which he dropped late Thursday. 
"Donald Trump is a chump, know how we feel, punk/ Tell 'em that God comin'," he rapped on the track. You can stream the song below:
Calling out Russia and Trump's ties
In the lines to follow, Lamar also calls out Russia's alleged involvement with Trump's campaign in the 2016 presidential election. It was reported Wednesday that the FBI has information pertaining to the president's ties with the country. CNN reported that it is possible Trump coordinated with Russia to release information to damage Hillary Clinton's campaign.
"And Russia need a replay button, y'all up to somethin'/ Electorial votes look like memorial votes/ But America's truth ain't ignorin' the votes," Lamar stated.
Infamously, Trump won the electoral college and Hillary Clinton took the popular vote. Out of 45 presidents, this was the fourth time in history a president-elect did not win the popular vote. This led to calls to abolish the electoral college, as concern grew that the electors' decision did not reflect the concerns of the majority of the voters.
Lamar is not the only artist speaking up about these issues. This year, Snoop Dogg and Gorillaz also called out the president's administration in their music.
Release date tease
Lamar may have also revealed the release date for his next album in the last lines of "The Heart Part 4."
"Y'all got 'til April the 7th to get y'all shit together," he concluded on the raw track. 
In early March, Lamar confirmed that he was making a new album in an interview with T magazine. The record will be an "urgent" project, made with his community in mind. 
"I think now, how wayward things have gone within the past few months, my focus is ultimately going back to my community and the other communities around the world where they're doing the groundwork," he said in the interview.
This untitled project Lamar is teasing would be the follow-up to his third album, To Pimp a Butterfly. 
Mic has ongoing Kendrick Lamar coverage. Please follow our Kendrick Lamar hub here.