Is 'Life' really a prequel to 'Venom'? Breaking down the rumors.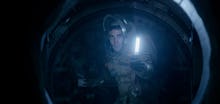 With Disney's Beauty and the Beast storming to just under $500 million worldwide in its first week of release, it would be perfectly understandable if you forgot, or just didn't realize, that there is a whole new crop of movies dropping this weekend. While the Disney remake is still projected to draw the largest crowds, newcomers hoping to make a buck or two include Power Rangers, CHiPS and Life. 
Outside of Beauty and the Beast, Power Rangers likely has the most appeal heading into the weekend — hello '90s nostalgia. But over the last two weeks, Sony's Life has received some additional buzz — life if you would — for an unexpected reason. Thanks to a highly observant Reddit user, who found Spider-Man 3 stock footage in a Life trailer, a theory began to develop that the space thriller s actually the secret prequel to a Marvel spin-off featuring Venom. 
The Life/Venom prequel theory
The theory gained some additional steam when Sony announced last week — just days before Life's release —  that a Venom film would be hitting theaters in 2018. And the theory made enough sense to at least get people talking. After all, the Venom symbiote and the organism in Life do share some commonalities. But Life is now in theaters, so here is the big question: Is Life really a prequel to Venom? The answer is pretty simple: No.
Is Life the prequel to Venom?
Even though the writers of Life — Deadpool scribes Paul Wernick and Rhett Reese — would love for you to think their film ties to the popular Spider-Man villain, sadly it appears that this is not the case. 
"Believe me, spread that rumor, man," Wernick told UPROXX about Life's ties to Venom. "If we can slap a Marvel title card on the front of this, we would have." 
In the same interview, Reese let on that finding stock footage from older films in new trailers is actually quite common. 
So, it appears that Marvel fanboys will have to go see Life purely because it looks interesting, and not because it will lead into Venom. But hey, if you are a fan of space thrillers in the same vein as Alien, Life could be a whole lot of fun. 
Forbes contributor Scott Mendelson sums things up pretty neatly in the title to his positive review of the film: "Life is not a Venom prequel, but see it anyway." 
Life is currently playing in theaters. Sony's Venom is set to be released on Oct. 5, 2018. 
Mic has ongoing coverage of Movies. Please follow our main Movies hub here.