'Splatoon 2' Open Beta Times: When can you play the Nintendo Switch global testfire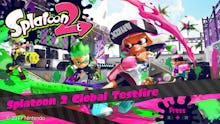 The Splatoon 2 release date will hit sometime this summer. But those eager to play are in luck: the Splatoon 2 open beta will occur even sooner. Switch owners who want to play the game soon can do so between Friday and Sunday at very specific times. Known as the Splatoon 2 Global Testfire, Nintendo is making the game available early. But what times can you take part in the fun?
Splatoon 2 open beta times: Nintendo Switch global testfire schedule
According to Nintendo, the Splatoon 2 beta times are as such:
Friday, March 24
3:00 p.m. - 3:59 p.m. Eastern
11:00 p.m. - 11:59 p.m. Eastern
Saturday, March 25
7:00 a.m. - 7:59 a.m. Eastern
3:00 p.m. - 3:59 p.m. Eastern
11:00 p.m. - 11:59 p.m. Eastern
Sunday, March 26
7:00 a.m. - 7:59 a.m. Eastern
Leading up to these times, make sure you grab Splatoon 2 off the eShop (it's free). You don't want to waste time downloading the game only to find out you've cut into your playtime. Each session is about an hour, so spend your time wisely.
Splatoon 2 open beta times: How to play right now
You can't! Your best bet in practicing in time for the first few rounds of Nintendo Switch Splatoon is by playing on the Wii U. While the game may be on two separate consoles, we learned from the January hands-on Switch demo that the game plays largely the same as its Wii U counterpart. 
If you're unable to play the Wii U version of Splatoon, other ways to prepare for the global testfire include snagging an ethernet adapter for the Switch. While others will have to deal with slower Wi-Fi, your cable connection will bring you faster speeds and smoother online gameplay. 
Check out more Nintendo Switch news and coverage
Looking for more Nintendo Switch news? Check out how blind gamers are using the Nintendo Switch. Nintendo's left Joy-Con issue turns out to be a hardware problem, find out how to solve it. Find out how to buy one amidst the recent restock. Learn why the Switch cartridges taste so bad. Check out our comparison photos sizing up the Switch to the Wii U GamePad (part one and part two), find out how to make use of ethernet without the dock and the best way to get alerts when new stock arrives.