Everything we know (and don't) about the American Health Care Act fiasco — and coming vote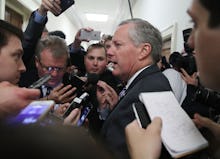 No one knows whether the votes are there to pass the American Health Care Act. Chaos reigned yesterday. Looking back, the passage of the Affordable Care Act seems tame in comparison. On Thursday, former President Barack Obama released a lengthy statement celebrating just that — Thursday was the seventh anniversary of the ACA — and throwing shade at the latest Republican efforts to dismantle it. Republicans, for their part, were busy negotiating a last-minute deal — just what they'd attacked Democrats for doing seven years earlier — but couldn't pull off a Thursday vote.
Just as Republicans announced they wouldn't hold the promised vote, President Donald Trump was jumping into the cab of a big-rig truck — a group of truckers had come to visit the White House. Trump blew the horn and eventually said he looked forward to the bill's passage. "Today, the House is voting to repeal and replace the disaster known as Obamacare," he said — no one had told him yet the vote was pushed back.
Then came the nighttime meetings to try to salvage a deal. Republican leaders told reporters last night that the bill will pass in a Friday vote, while House conservatives maintained no deal had been struck. The dueling comments followed a closed-door caucus meeting where members of Congress could be heard cheering, but emerged without a clear deal or sure vote count.
Thursday night's Republican meetings were chaotic. Top White House officials — Reince Priebus, Steve Bannon and Mick Mulvaney — spent hours on Capitol Hill pushing Republicans to support the bill. Dozens of reporters lurked in hallways attempting to catch House members who would cast deciding votes. Rep. Mark Meadows (R-N.C.) told me, after hours meeting with the president's top advisers, that he believes Republicans will eventually find consensus — but he and some of his Freedom Caucus members are not there yet. Mulvaney, Trump's budget director and a former Freedom Caucus leader, said as much Friday morning. When asked if there are enough votes in the House, he said, "Don't know."
The disruption seems like bad news for Trump. Mic broke down the key takeaways from Thursday's failure for the GOP. A self-proclaimed dealmaker, Trump issued an ultimatum Thursday night that the bill must come to a vote and he was done negotiating. If the bill fails to pass Friday, the White House messaged, the president would move on to tax reform and other matters — leaving the Affordable Care Act untouched. But the situation was still fluid Friday morning, with some reports the president was still negotiating. Trump also began to lay the blame at the feet of House Speaker Paul Ryan (R-Wis.) on Thursday. A New York Times story cited four people close to Trump saying the president wished he had not supported the House leader's health insurance plan and ram-it-through strategy.  
How this will affect the president's broader agenda and credibility is anyone's guess. But after seven years of promising to repeal and replace the ACA, Republicans may fall a handful of votes short from their dream — never to revisit the issue again. 
On the other side: Democrats in the House are still staunchly opposed to the Republican bill. They are all expected to oppose it. Protesters opposed to the health insurance bill stormed the halls of Congress on Thursday.
Does it even matter? This thing is dead on arrival in the Senate. Moderate Republicans like Susan Collins of Maine or Lisa Murkowski of Alaska are unlikely to favor rolling back health care coverage requirements for women. On the other end of the spectrum, conservative Sens. Mike Lee (R-Utah) and Rand Paul (R-Ky.) have said they will only support a full repeal of Obamacare. At least a dozen other Republicans are waffling or outright opposed to the bill that no Senate Democrat is likely to support. Kind of makes you wonder: What's the point of passing this through the House anyway?
Welcome to the political newsletter that also love playing truck driver. The House is in chaos. Follow mic.com/navigatingtrumpsamerica all day for coverage of the health care vote — assuming it actually happens. 
Who knows?
•  Today: The votes may be there and they may not be. After Thursday's delay, the House will vote on the American Health Care Act — thanks to an ultimatum from the White House.
•  More: We know what's in the latest bill, but we do not know how it will affect Americans.
•  Even More: Chuck Schumer plans to filibuster Neil Gorsuch.
•  Trump's agenda today: Watching the health care vote very closely. Holding a Greek Independence Day celebration. Meeting with Medal of Honor recipients. Having lunch with Treasury Secretary Steven Mnuchin.
What's in the latest health care bill?
We know and we don't. In a bid to win over conservatives and some moderates, House leaders stripped the bill of requirements that private health insurance provide "essential health benefits." That means insurers would not have to cover hospitalization, pregnancy, maternity care, mental health and addiction treatment, pediatric care and more.
That change was demanded by Freedom Caucus members who claim forcing insurers to provide those baseline coverages make it difficult to offer cheaper plans. Those areas of care were included in the ACA to ensure all Americans did not have health insurance that could not cover unforeseen, costly medical developments. Mulvaney argued Friday the federal government should not set national parameters, encouraging people to make these changes at the state level. Moderate Republicans worry dropping the requirement could pass the burden for that care onto patients.
To woo a few moderate votes, the bill received an additional $15 billion to cover some of these health care needs at the state level. And repealing a tax on higher income Americans to pay for Medicare has been postponed.
The latest Congressional Budget Office report on the bill, sent Thursday to Ryan, maintained that by 2026, 24 million people would lose insurance. The federal budget deficit would be reduced by $150 billion over the next decade — a smaller savings than the initial bill. The bill would also increase premiums through 2020, before lowering them slightly.
To be clear: The latest CBO evaluation does not provide analysis for what cutting essential health benefits would do to the market, meaning the House will vote Friday on a bill it does not fully understand. 
News and insight you cannot miss:
•  Another headline from Capitol Hill: Sen. Minority Leader Chuck Schumer (D-NY) said he will oppose the Supreme Court nomination of Judge Neil Gorsuch. Schumer urged fellow Democrats to oppose Gorsuch and said the judge will have to earn the support of 60 senators, not just 52 Republicans. That means Schumer is angling to not lead the conservative judge have an up-or-down vote in the Senate. Republicans, predictably, are steamed. (NPR)
•  Trump has approved the Keystone XL Pipeline. The project, long criticized by environmentalists, will pipe oil from Canada to the southern United States. Pro-fossil fuel interests have said the project will create thousands of construction jobs. (Politico)
•  Vice President Mike Pence tweeted a picture of a group of white men gathered at the White House to discuss the American Health Care Act, including cutting coverage for maternity care and pregnancy. That did not go over well. (Mic)
•  "So far he's acting like a rookie. It's really been amateur hour." House Minority Leader Nancy Pelosi, who pushed Obamacare through the House, on Trump's handling of Republicans during the American Health Care Act battle. (New York Times)