Controversial author Charles Murray spoke at New York University. It wasn't pretty.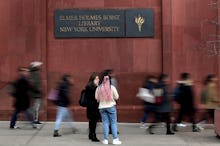 Charles Murray is many things: a Harvard-educated political scientist, a Libertarian, a co-author of the most tensely debated (and widely discredited) book of racial pseudo-science of the 1990s. But one thing he's definitely not is a white nationalist, he insists.
"I know you've heard that I am [one]," the Bell Curve author told a room full of New York University students on Friday. "But I'll tell you, it's hard to be a white nationalist and a Libertarian. Plus, I have two biracial children. Doesn't that automatically get me kicked out of the white nationalist club?"
Murray, 74, has been a lightning rod for controversy this month. Since his appearance at Middlebury College in Vermont on March 4 — which erupted in violent protests and ended with a professor, Allison Stanger, in the hospital with a neck injury — a nationwide debate over free speech on university campuses has ensued.
But one thing that became clear about 10 minutes into Murray's lecture Friday is that he brings little to the table besides controversy. His reputation among social scientists, after all, is that of a racist hack. And the hypothesis he's been peddling at American colleges — that urban disdain for rural white people produced the Donald Trump presidency — isn't exactly new. 
In fact, many of Murray's ideas are tired, ramblingly presented and have been repeatedly discredited by his peers for decades.
"Murray is currently in the midst of a speaking tour fueled not by the quality of his newest work ... but by the spectacle of opposition to it," a group of roughly 100 NYU faculty wrote in a joint letter protesting Murray's appearance on Thursday.
Yet he's still being invited to speak at schools. 
Murray is perhaps best known for The Bell Curve, his infamous 1994 social science book co-written with psychologist Richard J. Herrnstein. The book owes a lot to the field of eugenics — the belief that humanity is best improved through controlled breeding that increases the prevalence of desirable traits, like intelligence. 
At one point in the book, Murray and Herrnstein argue that low IQ, heredity, poverty and social pathology are not just linked, but may correspond to race. Black people, predictably, fall on the lower end of this spectrum, in Murray's estimation. If this sounds familiar, it's probably because related thinking was popular among the Nazis in Germany and other white supremacists around the globe. 
But the "science" behind Murray's argument has been endlessly disputed by scholars. And he's generally shied away from the topic during his tour this month, where he's focused mainly on Trump and the challenges facing working-class white people. 
Still, it has rarely been far from the surface: anti-racism protesters have greeted him at nearly every stop he's made. Middlebury erupted in violence. Demonstrators gave him a slightly more subdued reception at Columbia University in New York City Thursday night. And shouting dissidents lined up outside the Greenwich Village building where he gave his Friday lecture at NYU.
"Hey hey! Ho ho! Eugenics has got to go!" the two-dozen or so demonstrators chanted.
Inside the NYU Torch Club, the dim underground den where Murray gave his lecture, the 50-or-so attendees seemed to relish in the controversy surrounding them. 
"Hey hey! Ho ho! Free speech has got to go!" one audience member, a white college student, chanted derisively before the headliner arrived.
"The protesters are, like, all straight white men," another young white woman added (this was not true — a diverse cross-section of demonstrators were present).
The topic of white nationalism was broached just once during Murray's hour-long chat, when another young attendee — a South Asian-American NYU student from Bradford County, Pennsylvania — expressed sympathy for the ethos.
"I grew up among poor and rural whites," the unnamed student said, before quickly rushing out of the room after his comments, "and it's hard not to be sympathetic to the cause of white nationalism." 
After bemoaning what he saw as widespread bias against poor whites — using the reality TV show Here Comes Honey Boo-Boo as his example — the student went on to ask: "Is there a way forward for conservatism that isn't rooted in this sort of identity-politics-based approach?"
Murray replied, "Can I take you on tour? Because you've encapsulated so much of what I've been trying to say with this whole lecture." Murray didn't elaborate much beyond that, other than to agree and reiterate that coastal disdain for middle America produced Trump's rise.
Xavier Malaussena is a sophomore at NYU, and co-organized Friday's event through the American Enterprise Institute, a conservative public policy think tank at which Charles Murray is a scholar. He spoke briefly with Mic after the lecture. When he left the building, protesters greeted him with chants of, "Shame! Shame!" Game of Thrones-style.
"Thanks for coming!" Malaussena replied, waving, sarcastic but friendly.
"He's been massively bastardized as an author," Malaussena added of Murray. "Have white supremacists used his work to their own ends? Possibly. But those people often look at figures they see as sympathetic to inflate their own sense of importance."
When asked about the young man who espoused sympathy for white nationalism during Murray's lecture, Malaussena said he didn't think the gentleman meant what he said.
"I know him, and I don't think he was actually endorsing [white nationalism]," Malaussena explained. "What he was saying was, we've seen a lot more public flirtation with white nationalist sympathies, and that he understands why some people might be doing that."
The event ended quietly. The tension that surrounded Murray — knowing that protesters were shouting outside — was easily the most interesting part. Yet even as security guards rushed him out through a side door, the feeling that nothing new or substantive had been said lingered.
It was sad, really.
"The premises of biological or cultural inferiority are as objectionable today as they were when the same kinds of supposed science were used to justify slavery and other forms of racial domination," Charlton McIlwain, an associate professor of media at NYU, said. 
This may be true — but if Murray's continued relevance is any indication, his controversial views haven't hurt his standing among young conservatives, either.