How model Maya Monès is laying the groundwork to be fashion's next Naomi Campbell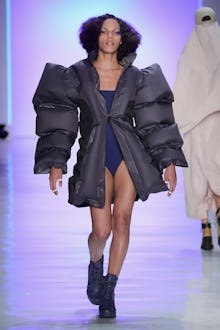 During Gypsy Sport's New York Fashion Week runway show in February, there was one model that received shouts, whistles and catcalls as she stomped down the runway, her hair tightly coiled like long ropes, a gold chain nameplate necklace around her neck.
That's Maya Monès.
Her name may be familiar to some — we've been covering her meteoric rise for months. Her face may be too, having walked at New York Fashion Week for Gypsy Sport, Chromat, Gogo Graham, Fen Wen Chang, BCALLA and Vaquera just to name a few. 
Already a runway veteran, Mones is only 22 years old. Even more impressive: she does not have representation, putting her name on the map through a combination of nightlife appearances and Instagram.
As the fashion world gives itself a pat on the back for its most racially diverse season ever, Mic sat down with Monès to get her thoughts on this as well as grappling with dysphoria, the tokenization of trans bodies in fashion and crowd-funding her facial feminization surgery (FSS).
ON DEALING WITH DYSPHORIA AND SCRUTINY 
Modeling has always been something that I've dreamed of for myself but couldn't really picture myself doing just because there was so much in the way before I started transitioning. Once I started transitioning, it just kinda clicked; there was no question for me that this was what I wanted to do; this is what I had to do at least to be a little bit happy in my life. ...
ON THE TOKENIZATION OF TRANS BODIES IN FASHION 
In this social media age people, and big companies, are realizing very quickly that if they don't step up to representation or do what the public really wants to see and the younger generation wants to see then they'll lag behind. For the sake of that, they'll throw in two black girls on their runway or do a campaign with a black girl but primarily it's still a lot of white models dominating the runways and the modeling industry in general. It's blurred because people are like "yeah, inclusivity!" but at the same time it's not really inclusivity.
ON INTERSECTIONAL IDENTITIES BEING REPRESENTED 
Fashion is so behind the curb because there's so many beautiful people out there who are at these intersections that aren't being represented. They check one box, "Oh we have a trans girl in," but most of the time she's probably white and slender.
ON THE SISTERHOOD FORMED AMONG TRANS MODELS OF COLOR 
I talk to a lot of trans models of color specifically about the struggles. We talk about money, because a lot of us don't have agents so we manage ourselves and everything comes in via social media. It's a blessing in a lot of ways to not have an agent and to do it yourself but it means that people can take advantage of you really easily. So we talk to each other, we try to keep each other safe, we give each other advice, we lift each other up.
ON TRANS BEING SEEN AS A TREND 
I am very frustrated because it feels like people don't really know trans people is what I've realized. Trans people are in the media more and there was this big trans boom and there's more people coming out as trans and trans visibility is probably higher than it's ever been, but people don't know trans people yet.
ON PROCESSING THE EPIDEMIC OF TRANS MURDERS 
If I'm not thinking about being killed then I'm thinking about "is existing worth it?" It's not just dealing with the outside world but internally, how it affects you and dysphoria and such.
ON CROWD-FUNDING HER FACIAL FEMINIZATION SURGERY (FFS)
It's something that a lot of trans women pursue because of internalized trans misogyny. The world that we live in, we can't really exist as we do if we're not passing as women who were born as women (cis women). We can, but it's very hard. It's very hard to, dealing with already what your dealing with in your head, having people stare at you all the time, make comments, have your life at risk because people can see that you're trans. ... It's about survival, but it's also about feeling comfortable with yourself. ... Seeing myself in the mirror and not subconsciously thinking man.
Check out the full interview below: