Tom Price: Why conservatives are turning on the Republican health secretary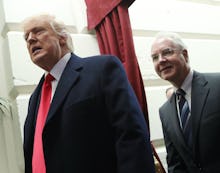 As President Donald Trump and House Speaker Paul Ryan scramble to garner enough Republican support to pass the American Health Care Act in the House, party conservatives have found a new target for their frustrations with the controversial health care bill: Health and Human Services Secretary Tom Price.
Price, an opponent of the Affordable Care Act who said "nobody will be worse off" under the AHCA, made the case this week that passing the legislation would be better than a total repeal of the ACA. 
On Sunday, Price argued that repealing the ACA without a replacement would "place vulnerable people at risk." Then, in a Tuesday interview with conservative radio host Hugh Hewitt, Price said "time was running out" for further amendments to be added to the bill.
"At some point, you've got to put down the pens, and the hour is late," Price told Hewitt. "We've done some things here at the department that I think are really important, and we'll be addressing more of them this week and as the weeks roll by." 
That rankled some conservative critics of the AHCA, who have dismissed the Republican plan as "Obamacare Lite." 
On Wednesday, the Conservative Review's Daniel Horowitz bemoaned the secretary's "policy ignorance," writing that Price had "confirmed" what conservatives always knew: The GOP never intended to fully repeal the ACA.
"Tom Price himself has already confirmed, as he essentially did during confirmation hearings, that he subscribes to the basic premise of Obamacare about pre-existing conditions and doesn't WANT to repeal them," Horowitz wrote. "Hence, prices will never come down and the market will never be fixed."
The conservative backlash against Price underscores the deep divide within the GOP that forced House Republicans to delay its AHCA vote Thursday. Moderate Republicans feel the bill goes too far; the conservative House Freedom Caucus doesn't think it goes far enough; and Trump may or may not even know what's in the bill. 
Price, for his part, was apparently grabbing a drink as the party failed to coalesce around the AHCA and postponed the House vote.
After the vote was pushed to Friday, Trump issued something of an ultimatum to Republicans — if the bill fails to pass, he will apparently give up on health care reform and "move on to other priorities."