This craft brewer names her beers after hilariously awful bad dates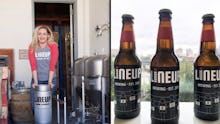 Kat Martinez lives in New York City, that urban metropolis where dating can be a rollercoaster of Tinder swiping, first dates, good dates, scary dates and unexpected ghosting. Martinez also happens to be an award-winning home brewer who recently opened Lineup Brewery in Brooklyn, New York. 
When it came time to name her hoppy creations, her encounters with the men of the five boroughs of New York City provided plenty of inspiration. 
But make no mistake, these aren't love-filled odes to smart, kind and compassionate significant others. Martinez's names allude to the weirdest, worst and downright dreadful dates and relationships. 
When bad dates inspire more than great stories
It all started with Grumpy Mort ale, Martinez said in an email. After she and a gentleman had gotten into an argument, he later blamed his moodiness on ... negronis. As Martinez tells it, the morning after the dispute she sent a follow-up text to apologize and wish him the best. His response? "No no, it was totally my fault. I was drinking negronis, and Campari makes me grumpy," she noted. Nail, meet coffin. 
"I saw a gallon of cider from his [family's] farm at a farmers' market and made it into an amber cyser (cider-beer hybrid) situation and named it 'Grumpy Mort.' I thought it was hilarious and fun to poke fun at the experience," Martinez said. Thus a tradition was born — Martinez has created four other beers named after dating disasters. 
Naked Mike, Washed Up Rockstar and other wrong-gone dates turned into craft
"Naked Mike," a Kölsch (light- to medium-bodied beer brewed from pilsener malt), was inspired by a man who had a shirtless Tinder photo. (And he ended up being just as much of a "huge douche" in real life, Martinez reported.)
The name for "Washed Up Rockstar," a porter (darker beer with complex flavors), came from a date with a musician from a well-known alternative rock band. 
"He left me at Emo Night in VIP with his manager for hours. When I finally found him, he was hanging out with his ex-girlfriend," Martinez said. Boy, bye. 
Heartbreak sparked "St. Anthony's Fire," a guava pale ale. St. Anthony's Fire is a nickname for a type of wheat fungus that killed tens of thousands of people during medieval times. Anthony was the middle name of her ex, who also happened to be another brewer. Martinez and the brewer collaborated on a guava IPA while dating, and she decided their breakup beer would riff on guava again. "This time around I chose to reference a painful, flesh-burning infection that you used to be able to catch from contaminated rye and wheat," she said, explaining her ex boyfriend's middle name was Anthony. "This is one of my more bitter beers, in both feeling and hop character." 
Her latest IPA titled "Fantastic, Brilliant" is named after an email breakup (better than text message?). After giving the man behind Grumpy Mort another shot, he sent her an email calling her "fantastic, brilliant, wickedly sexy"... and also saying he wanted to be single. ("We had never emailed before ... I actually still don't know how he got my email," she said.)
"My philosophy is to make them either funny enough that people will want to order the beer or awkward enough that they'll get a laugh out of a big, burly, bearded man ordering a 'Naked Mike.'"  —Kat Martinez
The naming ritual has caused friends to compare Martinez to Taylor Swift, the blonde pop sensation notorious for singing about her ex boyfriends. In using unrequited love as creative inspiration, Martinez joins the ranks of many singer-songwriters like Swift, Adele and Sam Smith. 
"My philosophy is to make [my beer names] either funny enough that people will want to order the beer or awkward enough that they'll get a laugh out of a big, burly, bearded man ordering a 'Naked Mike.' They always have to justify it. Dude, I get it. If you order this beer, you like naked dudes named Mike, obviously," Martinez said. 
Some men, it appears, feel embarrassed by cheeky beer names. Masculinity is still so fragile, so it seems.
Martinez said she suspects a lot of people purchase beers based on the creativity of beer names. And she admits she loves ordering drinks with clever names from other brewers. 
"Right now, Threes Brewing in Brooklyn is killing me with its names. 'Constant Disappointment' or 'I Hate Myself'? Yea, I want both of those in my face,"  she said. 
Can fans expect more date-themed beers from Martinez in the future? She said Lineup Brewing "has moved more towards beers that are defined and named by personalities," explaining she named a German pilsner "Bïeryoncé" after Beyonce last October. But she said she doesn't plan to stop naming beers after dates entirely. "It's too much fun for me. Love what you do."