Jay Z will tell Trayvon Martin's story in new docuseries and feature film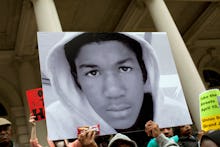 Feb. 26, 2017 marked five years since Trayvon Martin was shot dead in Sanford, Florida. The 17-year-old's killing sparked the Black Lives Matter movement and conversations surrounding racial profiling targeting young black people in America.
Jay Z and Weinstein Company have signed on to tell Martin's story and honor his legacy through a six-part docuseries and a narrative feature film, Variety reports.
The business partners solidified the deal after winning the rights to two books that take an in-depth look into Martin's life and the impact of his case. One text is Suspicion Nation: The Inside Story of the Trayvon Martin Injustice and Why We Continue to Repeat It by Lisa Bloom, a NBC news analyst. Bloom covered the murder trial and conducted an independent investigation on the case after the trial concluded.
Rest in Power: The Enduring Life of Trayvon Martin was written by Trayvon's parents, Sybrina Fulton and Tracy Martin. In the book, they detail their difficult fight to seek justice for their son during the 2013 trial. 
George Zimmerman, a gun-toting neighborhood watchman, shot and killed Martin in February 2012. Zimmerman was acquitted in the case. On the night of the shooting, Zimmerman called 911 to report Martin, who he called a "suspicious person." A dispatcher told Zimmerman not to approach the teen, but he did not follow those instructions. After shooting Trayvon, Zimmerman claimed he was using self-defense. His critics called his motives racially biased. 
Jay Z and his wife, Beyoncé, have publicly supported Martin's family in the past. The couple attended a "Justice for Trayvon" rally in New York City in July 2013. Jay Z has also donated to the Trayvon Martin Foundation.
The Trayvon Martin docuseries follows Jay Z's current social justice documentary, Time: The Kalief Browder Story. Kalief Browder was an African-American man who committed suicide after a brutal incarceration experience in New York's Rikers Island prison facility. The six-part series began airing on Spike TV in March.
Jay Z read about Browder's story in the New Yorker and was deeply touched by the 2014 account. He brought the story to Weinstein who agreed to work with him on this project. Jay said during a press conference for the docuseries that he was saddened when Browder's mother told him he had taken his life.
"I was thrown, of course, and asked myself, 'Man, this story doesn't end like this, it's not supposed to end this way. That's not how this story goes. Not in the movies, not in real life,'" he said. 
Mic has ongoing coverage of Jay Z. Please follow our main Jay Z hub here.