8 things you should know about Timothy Caughman, the man killed by a white supremacist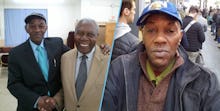 On Monday night, 66-year-old Timothy Caughman was killed in New York City, stabbed to death with a sword by a white man who had allegedly traveled to New York specifically to kill black men. The facts of Caughman's death obviously made headlines, but some of the media coverage of murder coverage oddly focused on his past arrests, or focused on his murderer's "well-dressed" and "well-groomed" appearance.
Here are some of the details of Caughman's life — not his death — that you should know.
1. His work benefited the community.
Caughman worked for several years running a local branch of the Neighborhood Youth Corps, the New York Times reported on Thursday, a federal program started under President Lyndon Johnson to fight poverty by giving low-income youth work experience. One of Caughman's family members told the Times that Caughman "probably gave out about two or three thousand jobs to people in the community."
2. He was an avid autograph collector.
In Caughman's Twitter, bio he called himself an "autograph collector," and his Twitter feed is filled with photos of Caughman smiling and posing with celebrities. His photos showed he had met everyone from Mayim Bialik to Gabby Douglas to Caroline Kennedy. 
He often tweeted directly at actress Shari Headley, who expressed her sadness after he was killed on Monday, tweeting "My heart is heavy typing this. Timothy Caughman was a fan of mine since 1991. He only spread LOVE His murder was senseless. RIP @TimRock715."
3. He was the son of a pastor and a home health care aide.
Caughman's mother, Tula Caughman, worked as a home care aide, according to the Times, and worked for wealthy families near the Caughman's family home in Queens. His father, William Caughman, was a pastor at Mount Zion Baptist Church. One family member told the Times that Caughman's family history dated back to ancestors who had been brought to Georgia as slaves as far back as the 18th Century.
4. Caughman's childhood nickname was "Hard Rock."
Caughman got the nickname "Hard Rock" as a child for his talents as a boxer and in street fights, according to the Times. One relative said that, growing up, Caughman was "known in the community as not to be someone who started a fight, but if you started it, he finished it."
5. He tweeted that he "loved America."
On Election Day in November, Caughman tweeted out a photo of himself apparently standing in line at his polling place, along with the caption "Standing on line waiting to vote I love America." He also tweeted at, and about, President Barack Obama, wishing him a happy birthday in 2012 and once, on New Year's Day, tweeted "Mr. President happy New Year. In 2012 get the economy rolling and the American people will roll with you." 
6. He once booked Earth Wind & Fire.
A cousin of Caughman's told the Times that Caughman worked, for a time, promoting concerts. One of his most notable accomplishments and a particular source of pride, the relative said, was that Caughman once booked a show for the band Earth Wind & Fire before they were famous.
7. He was raised in Queens and went to college in Brooklyn.
Caughman was a lifelong New Yorker, born in Jamaica, Queens, the Times reported, and raised in the South Jamaica Houses in Queens. One cousin, Seth Peek, told the Times that Caughman graduated from Brooklyn College with an associate's degree. And for the past 20 years, he lived on West 36 St. in Manhattan, the Barbour Hotel building, which is now housing for people transitioning out of homelessness.
8. He wanted to visit California someday.
In his Twitter bio, Caughman wrote "I would love to visit California," and he once Tweeted at the Los Angeles Times to say "I love your work" and "can't wait to get to L.A. Cali."