TweetDeck Pro? Twitter considers paid version for power users. Here's what you'd pay for.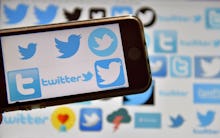 Twitter announced Thursday it may soon introduce a subscription version of TweetDeck — the social media dashboard, geared toward professionals, that uses the Twitter API to help users seamlessly peruse the platform with multiple columns at once.
According to spokeswoman Brielle Villablanca, Twitter — which has 319 million users as of last month — is conducting a survey "to assess the interest in a new, more enhanced version of TweetDeck." This version of the account management app would generate revenue through subscription fees, Reuters reported.
"We regularly conduct user research to gather feedback about people's Twitter experience and to better inform our product investment decisions, and we're exploring several ways to make Tweetdeck even more valuable for professionals," Villablanca said.
While Twitter has not officially mentioned a subscription program, screenshots leaked by a journalist show what premium TweetDeck would look like. The images, tweeted by @andrewtavani, hint at a version of TweetDeck that would provide "more powerful tools to help marketers, journalists, professionals and others in our community find out what is happening in the world quicker" for $19.99 a month.
What exactly are these tools? According to the Verge, the premium tool will consist of viewing, posting and signaling tools. These will include alerts, trends and activity analysis within a single ad-free dashboard that can be customized. It could also allow users to monitor several timelines from different accounts in real-time while providing audience insight features.
Twitter acquired TweetDeck in 2011.