San Francisco man threatened to shoot Muslim woman playing with her son in a park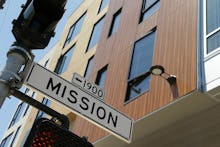 Being Muslim in public caused one woman to fear for her life. 
According to the San Francisco Police Department, 27-year-old Joshua Ruano approached a Muslim woman wearing a hijab and playing with her son in a San Francisco park and threatened to shoot her. The man also hurled anti-Muslim comments at the woman. 
The SFPD is holding the man on suspicion of making a criminal threat with a hate-crime enhancement. 
Zahra Billoo, executive director of the Council on American-Islamic Relations San Francisco Bay Area, told the Los Angeles Times that anti-Muslim attacks are on the rise. 
"This incident in San Francisco reminds all of us of the critical work to be done in our own communities to prevent hate crimes and protect each other," Billoo said. "We applaud this woman who was targeted while with her child for bravely coming forward and hope it will encourage others to also seek help."
According to the Pew Research Center, the number of anti-Muslim crimes increased sharply in 2015 in the U.S., reaching 9/11-era levels. 
Anti-Muslim sentiment has also caused a string of attacks on mosques nationwide. Earlier this month, a man walked into the Islamic Center of Tucson and ripped up over 130 copies of the Quran.