Trump Tower Wiretapping: Devin Nunes explicitly states that Trump wasn't wiretapped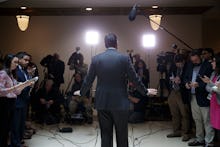 House Intelligence Committee chairman Devin Nunes (R-Calif.) continued the ongoing saga of Donald Trump's wiretapping claims against former President Barack Obama by declaring on Friday, "There was no wiretapping of Trump Tower. That didn't happen."
This stance appears somewhat at odds with his press conference two days prior. Nunes alleged on Wednesday that some members of Trump's transition team may have incidentally had their communications intercepted by government surveillance.
In light of Nunes' announcement Wednesday, Trump broadcasted partial vindication for his baseless claims that Obama had wiretapped Trump Tower during the presidential election.
Nunes' unorthodox decision to bypass the House Intelligence Committee and go straight to Trump with the relevant intelligence further stoked the controversy. It also led many of Nunes' colleagues to question his ability to objectively lead what is supposed to be an independent committee — which is currently overseeing an investigation into Trump's ties with Russia.
"Chairman [Nunes] will need to decide whether he is the chairman of an independent investigation into conduct — which includes allegations of potential coordination between the Trump campaign and the Russians — or he is going to act as a surrogate of the White House, because he cannot do both," Adam Schiff (D-Calif.), Democratic ranking member of the intelligence committee, said Wednesday during a press conference.
Yet Nunes' assertions Friday that the wiretapping claims are nothing more than myth were not enough to reassure colleagues concerned about his objectivity and transparency. On Friday, Nunes also canceled Tuesday's scheduled open committee hearing regarding Trump's ties with Russia and possible interference in the elections. The hearing was to include, among others, former director of national intelligence James Clapper, former CIA Director John Brennan and former acting U.S. Attorney General Sally Yates.
Schiff used Twitter to censure Nunes.
While Nunes already issued an apology Thursday to his fellow committee members for his unconventional behavior, Friday's developments have further provoked some of them — as Schiff's tweet indicates. The growing division within the House Intelligence Committee during the highly scrutinized investigation may ultimately threaten Nunes' chairmanship if controversy continues to plague him.