12 of the most iconic and inclusive fashion campaigns of all time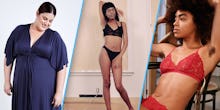 As brands begin to better understand consumers' increased desire to see themselves reflected in advertising, inclusive campaigns have become ubiquitous. 
This push to showcase people of various sizes, shapes, races and genders has completely augmented fashion as we know it — and forced companies to change. That's not to say it's been easy, though. 
There have been plenty of failed brand attempts to be inclusive. But there have also been some excellent examples of companies featuring people who, until very recently, were never seen in fashion campaigns.
We've rounded up 12 of our favorite diverse fashion campaigns, organized by what kinds of models were cast to make the advertising more inclusive to a wider swath of people.
People of various sizes, ages and races 
This Selfridges campaign 
When the British department store Selfridges thought about how to advertise its new lingerie and loungewear department, it didn't want to go for the typical route involving uber-sexy shots of women posing unnaturally. 
Instead, the company focused on strength. To do that, Selfridges brought in a group of diverse women to show off its goods, casting activist and model Naomi Shimada, transgender activist Charlie Craggs, Thai boxing champion Rusqsana Begum, WAH Nails founder Sharmadean Reid and fashion muse Michèle Lamy. 
"For so long, underwear advertising has been dominated by sexualized imagery of women in heightened poses and impossible designs," Kathryn Ferguson, director of the short film, told i-D. "In reality, this is worlds apart from the everyday act of putting on your pants and the choices we make in the morning." 
Women of different ages, sizes, shapes, colors and identities all talk about their own strengths in the ad, which runs nearly four minutes.
This H&M campaign
For its September 2015 "Close the Loop" campaign — which was all about sustainable clothing — mega-retailer H&M called upon models like Mariah Idrissi, who wears a hijab and is of Pakistani and Moroccan heritage. The campaign also featured an amputee model, plus-size models, a group of Sikh men and people of various genders and ages to show off some of H&M's most cutting-edge fashion. 
It was a smart move. The ad, still stunning to watch, shows all types of people looking fierce as hell in H&M's latest duds.
"To finally see a hijabi in mainstream fashion is a big achievement," Idrissi told Fusion at the time. 
This Target Australia swimwear campaign 
Much like lingerie, swimwear campaigns are usually all the same: Tall, thin, busty women posing somewhere vaguely near or reminiscent of water. But for Target Australia's swimwear campaign in December 2015, the retailer subverted that idea entirely, casting a diverse group of women for its print and online ads. 
The campaign showcased six models of different sizes, ages, shapes and races, all in bathing suits. Judging by comments alone on Target Australia's Facebook page, it was a hit. 
It also created a domino effect for Target locations across the world, with Target in America taking note and producing diverse campaign images of its own shortly thereafter. 
People of various genders 
This Lonely Lingerie campaign
The New Zealand-based lingerie brand Lonely wants to defy preconceived notions about lingerie advertisements. The images it uses to show off its bras and underwear are of various sizes, ages and races, with hair and stretch marks commonly on display. 
For Lonely's October 2016 campaign, it continued this legacy, casting transgender model Aurel Haize Odogbo for its "Nine of a Kind" ads. 
"For so long, it is not only one body type that has been represented in traditional lingerie imagery, but older women are not, transgender women are not," Helene Morris, Lonely's founder and designer, said in a previous interview with Mic. "We hope for a time where we are not singled out as a brand whose imagery is an exception to the images that we see in the media."
This & Other Stories athleisure campaign
An August 2015 campaign for retailer & Other Stories' athleisure line embraced not just transgender models Valentijn De Hingh and Hari Nef in front of the camera, but transgender creatives behind the scenes as well. 
Campaign photographer Amos Mac, makeup artist Nina Poon and stylist Love Bailey are all trans, too, helping to create one of the most impactful fashion campaigns to date. 
"Sometimes to get a political message across, having a commercial brand support an issue can actually help ..." De Hingh told Women's Wear Daily. "The thing that you have to be worried about is that it's not just a fad. It's not a fashion trend to have transgender people in a youth campaign, then after two seasons not have them anymore. I think that the way things are moving right now, it's looking like even when the fad is over there will still be awareness of our story and our issues."
This Coverstory campaign 
In December, model Shay Neary made history as the first out plus-size transgender model to land a major fashion campaign. The campaign itself was for Coverstory, which specializes in modern clothing for plus-size people.
As to why Neary's exposure in such a campaign is notable, she said it's all about showing that people like her have value. 
"We have to all be seen," Neary said in a previous interview with Mic. "Not just some of us, not just ones who fit the transgender bill. Not just the streamline passable woman, or the plastic Kim [Kardashian] wannabe. We all have value and integrity. We deserve to be seen in mainstream media ... Our lives have purpose."
People with disabilities 
These Curvy Kate lingerie campaigns 
The goal of Curvy Kate's #TheNewSexy campaigns is to show that there isn't really one definition of sexy. For both its first and second versions of the campaign, the brand brought in models of varying abilities: One model was an amputee, and another with Guillain-Barré syndrome used a wheelchair.
"The industry is so powerful and has so much influence over us all that it should take more responsibility for the images it portrays," model and wheelchair user Gemma Flanagan said in a blog post. "Diversity isn't a novelty that should be 'used'. It should just be the norm." 
In addition to women of varying abilities, Curvy Kate also cast a model with alopecia and others of different sizes and ages.
This Nordstrom campaign 
In 2012, Lauren Wasser had her leg amputated after the toxic shock syndrome she developed while wearing a tampon. In 2015, she landed an ad campaign selling Nikes in Nordstrom's holiday catalog. 
When debuting the images of her flaunting the shoes — and her prosthetic — on Instagram, she wrote, "My first real job back in the modeling game ... in disbelief to have even been chosen for [Nordstrom]." 
This wasn't the first time Nordstrom featured models with disabilities in its campaign images. In its 2014 anniversary sale catalog, the company featured four models with various disabilities, including Jillian Mercado (who uses a wheelchair) and Shaholly Ayers (who was born without her right arm below the elbow). 
People with stretch marks
This Lane Bryant campaign 
In this campaign for Lane Bryant, model Denise Bidot proudly flaunts her stretch marks. While that may be groundbreaking on its own, the ad is particularly noteworthy because it appeared in the 2017 Sports Illustrated swimsuit issue, an annual celebration of what's usually a relatively narrow depiction of beauty. 
"It's an honor to be in the @lanebryant ad featured in the pages of the 2017 @si_swimsuit, completely unretouched," Bidot wrote on Instagram. "It's amazing to be a part of the change that's helping women see once and for all that nobody is perfect. We can still be beautiful in spite of our imperfections. It's time we celebrate each other and learn to love the skin we are in." 
This Target campaign 
For Target's latest swimwear campaign, there was no erasing cellulite or stretch marks. In fact, there was no erasing anything at all. 
In this campaign, models of various sizes wore the swimsuits in which they felt the best, with Bidot proudly showing off her stretch marks once again. 
"Target is committed to empowering women to feel confident in what they wear by offering a variety of style choices," Target spokesperson Jessica Carlson told Mic. "We loved working with these women because they embody confidence and inspire women to embrace and be proud of who they are, regardless of their size or shape. It was important to us to use photography that represented their true beauty without filters."
People with body hair
This & Other Stories lingerie campaign 
Lingerie campaigns are known for being retouched to within an inch of their lives, with nary a bump of cellulite or strand of body hair to be seen. But then & Other Stories' lingerie campaign "For Women, By Women" came into existence. 
In the campaign, one model has her arms lifted above her head, proudly showing off her armpit hair — a movement that's seen increased increased support in recent years.
This Neon Moon campaign 
U.K.-based feminist lingerie brand Neon Moon prides itself on turning the ideas about what's truly sexy on their head. For its #IAmNeonMoon campaign in November 2015, the brand cast models of varying shapes and sizes, including one model who proudly showed off the hair under her arms. 
The campaign also included a transgender model, a plus-size model and a model sporting a shaved head, subverting the idea that women need long hair to be considered sexy. 
"This year has truly been eye-opening to how important it is for women and especially young women to see themselves represented, whether that be with stretch marks, cellulite, body hair, freckles, scars or any other natural attributes," founder and CEO Hayat Rachi previously told Mic. "It's important to see what is perfectly normal and healthy on other women, as opposed to seeing Photoshopped versions of the very narrow standard of 'beauty' we're all so used to."