Could your iPhone or iPad become a touchscreen Mac?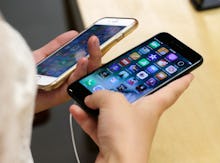 The future of Apple products could one day entail your iPhone or iPad turning a hollow shell of a device into a touchscreen Mac. Or, at least, that's what an Apple patent filing for an "electronic accessory device" from September suggests.
First spotted by Apple Insider, the patent outlines a laptop-like device that has a dock for an Apple smartphone or tablet. It also comes equipped with hardware like a large display, physical keyboard, batteries, GPU and ports. But the rest — processor, graphics card, storage, memory — comes from an iPhone or iPad. 
With the iPhone-compatible design, the device also serves as a trackpad.
With the iPad-friendly version, the trackpad would already be installed in the laptop-like device. The tablet would provide the display for the makeshift computer.
If it sounds familiar, it's because the concept is reminiscent of the HP Elite x3 Lap Dock. The similarities between Apple's proposed device and the HP product is that both require a smartphone to be inserted into a "dumb terminal," reports 9to5Mac. The Apple patent does offer something more with the iPhone also serving as a trackpad and a version compatible with an iPad.
While the patent has been filed, it is not uncommon for electronics companies to file patents for gadgets and devices that will never see the light of day. So, just because Apple has filed a patent does not mean the product is guaranteed to hit the market.