'The Walking Dead': How to watch season 7, episode 15 online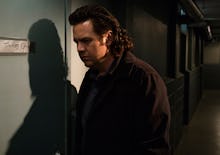 As expected, Sasha's assassination attempt of Negan didn't go as planned — and no, not just because we know that Jeffrey Dean Morgan is coming back for season eight, or the fact that Sonequa Martin-Green is about to be the lead of a new Star Trek series. As a photo AMC has teased for the episode 15 of season seven shows, Sasha's a prisoner at the Sanctuary, where she may be subject to the tortuous tunes of "Easy Street" (Eugene, please save her). 
That doesn't sound great for Sasha, but it should make for some entertaining television for Walking Dead viewers. Episode 15, "Something They Need," is also poised to return to Oceanside, where the group's huge cache of weapons is sought by Rick and the rest of Alexandria for their upcoming battle against the Saviors. You can check out the full synopsis for "Something They Need" below, per AMC: 
A group of Alexandrians embarks on a journey to a distant community. One group member must make a heartbreaking decision.
The details are a bit subtle, yet foreboding, for season seven's penultimate episode. But for viewers who don't have TV access Sunday night, how can you watch the latest episode online?  
Options are a bit limited for those who don't have a cable subscription. AMC has a next-day streaming partnership with Hulu, but that deal doesn't include The Walking Dead, since the show had already been on air at the time of the deal. Instead, the best bet for non-cable users is to purchase the episodes individually through iTunes, Amazon or Google Play the day after they air. 
However, if you happen to have a cable subscription, it's much easier. "Something They Need" will be available to stream on the network's website the day after it airs — aka Monday. 
The Walking Dead returns at 9 p.m. Eastern Sunday on AMC. Check out a sneak peek of the latest episode below.  
Mic has ongoing coverage of The Walking Dead. You can follow our main Walking Dead hub here.