Drake's 'More Life' proves we need a Young Thug album more than anything else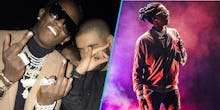 It's hard to see Drake's More Life as anything less than a triumph. Only a week old, it's already broken streaming records, broke Twitter and turned the world onto a plethora of new artists they might not otherwise have seen. 
There's a subtle irony to the More Life response. It's the best Drake album in years, and yet it's the one with the least amount of Drake on it. Those guests make the album what it is — both encouraging Drake to shuck the brooding malaise that's followed his music since Take Care and offering some of the album's most unexpectedly brilliant moments. One rapper's contributions stand apart from the rest — those of the delightfully chaotic Young Thug. 
Jeffery to some, the Prince of hip-hop or the future of music to others, appears on two tracks — "Sacrifices" and "Ice Melts." He sounds almost unrecognizable coming out of the gate on the first, but as he deftly winds out his futuristic, hyper-melodic yodel over the immaculately produced beat of "Sacrifices" it becomes immediately clear — hip-hop needs a proper Young Thug album stat.
Despite being one of the most fascinating and influential figures in hip-hop, we've never technically heard a Young Thug album. Barter 6, his most album-like product to date and a solid introduction to his woozy, warbling trap, was still billed a mixtape. Also, Young Thug's latest, Jeffery, his "personal" project featuring a cover with him wearing a dress designed by Alessandro Trincone, is also a mixtape.
Both, and everything released in between, were enthusiastically received, encouraging professionals to delve into deep music theory analyses of his unpredictable flows and lyrical turns. He seems to be doing to hip-hop what Ornette Coleman and John Coltrane did to jazz: freeing it from cultural prescriptions, making it wilder and fit to represent a wider expressive range. His gender-bending fashion has been challenging traditional notions of masculinity in the genre, flustering some of hip-hop's old guard, such as Fat Joe and Lord Jamar.
And yet, Young Thug has yet to reveal his perfected, final studio form. 
What he has shown is enough to make some of hip-hop's top dogs giddy for what the future of the genre holds. "Young Thug is super inspiring to me," Kanye West once tweeted in response to a Slime Season 3 track. "Amazing artist!!!" 
Three exclamation points.
Similarly, Gucci Mane, Atlanta royalty with one of the keenest eyes for talent in hip-hop: "I chased that boy down and told him like, you're one of the most talented people I've ever worked [with]," he said in a 2013 interview. Thugger can be heard throughout Gucci's post-prison output, helping buff a contemporary polish onto his more classic Atlanta trap. 
Drake is simply the latest artist to try to cop a little bit of Young Thug's shine. And while his presence on the record-breaking album will give the rapper a larger platform to share his new vision of hip-hop, it comes with a price. It makes him particularly susceptible to wave riders, biters who want to capitalize off the innovations he's bringing to the table. 
Every rapper and their mother is trying to find a way to make melody work with their flows and lyricism today, and still the one with the freshest take is Thug. We need that studio album — the mythic Hy!£UN35 that's been teased since all the way back in the Barter 6 days — the proper release to exemplify to the world what a sense of melodic freedom and hip-hop can actually do for one another. It will raise the bar.
Of course, thanks to people like Drake and Young Thug, the distinction between album, mixtape, playlist and EP is essentially one of semantics. More Life listened like all good mixtapes should, had the scope and polished flow of an album, but was billed as a playlist. The word the artist chooses to use essentially indicates how much stock the artist is willing to place in the product. 
In other words, Young Thug hasn't seen any of his projects as worthy of being declared an album. The world truly has no idea what he's actually capable of, and that is exciting.
Mic has ongoing music coverage. Check out our main Music page here.