'Trial & Error' star Jayma Mays talks John Lithgow and Carol Anne's overt sexuality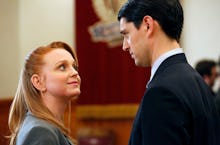 It's not every year that we are lucky enough to have a late-season television addition that looks like it has what it takes to become a quick fan favorite. But a few weeks ago, NBC gave us just that with the premiere of Trial & Error. The series, shot in the same mockumentary style as Parks and Recreation, takes viewers into the small town of East Peck, South Carolina, which has become embroiled in the investigation into the murder of Margaret Henderson. 
While that quick description makes the series sound super serious, Trial & Error is anything but. Created by former Friends writer Jeff Astrof and Lethal Weapon executive producer Matt Miller, Trial & Error is hilariously absurd, and yes, the whole series revolves around a mysterious death. But once you get to know the cast of characters in East Peck, you quickly learn how murder can become a laughing matter. 
Trial & Error stars The Crown's John Lithgow as Larry Henderson, an eccentric (to put it lightly) poetry professor who has been accused of murdering his wife. It certainly doesn't help his case that his first wife died in the exact same manner — and that is only one of a few wrinkles in his defense. Tasked with proving Henderson's innocence is his highly (in)capable legal team. 
Steven Boyer plays Dwayne Reed, the lead investigator, who couldn't quite make it as a police officer — and can't go to the bathroom with the door closed. Sherri Shepherd plays Anne Flatch, a receptionist with more than a few inconvenient, yet hilarious, ailments. And the man who will ultimately be responsible for defending Larry is Josh Segal, played by Gotham's Nicholas D'Agosto. And though Segal is a promising young "Northeasterner," he has never tried a murder case. 
Of course, the point of a good defense is to slow down an opposing offense, and the woman standing in the way of Larry's freedom is East Peck's ambitious, and slightly kinky, prosecutor, Carol Anne Keane, played by Glee's Jayma Mays. Mic recently spoke with Jayma Mays about Trial & Error, her take on Carol Anne and what it takes to get into the small town mentality. 
(Editor's Note: The following interview has been edited and condensed for clarity.)
Mic: So you play Carol Anne Keane, East Peck's prosecutor. Did you have to do any research for your role as a hotshot attorney?
Jayma Mays: We had an attorney that was staffed to help guide us through any questions that might come up in terms of procedural stuff. I went down, and I think Nick did as well separately, but we went downtown with him and sat in on a couple of cases and he introduced us to some lawyers. We just kind of watched a normal proceeding — we didn't go in any murder trials or anything like that. But it was really helpful. 
There is something about being in the courtroom — so it was good to see that and how people responded to the judge, and to see what a normal day in court was like. That was helpful, however our show is such a farce [laughs], that we couldn't use all that we saw downtown on the show, because we are dealing with such a farce. But it was helpful.
You actually grew up in a small town. Has that influenced your take on Carol Anne Keane? Are there any similarities to East Peck and where you were raised?
JM: Well, I guess there is something similar to all small towns. The fact that everybody knows each other, that was something that was very clear even in the pilot. Nobody gets away with anything. If you are an outsider, immediately you're suspicious [laughs}. Maybe it is something that is familiar to me growing up. 
I also think there is something about being in the small town — maybe because you know everyone — you also know all the quirky characters in the town. I think that's what is so nice about the show, is I think everyone has these quirks and specific identities. Maybe in a small town you get to know people's quirks better, and I like that. 
Well, you know exactly who the best pet psychics are, so that's good.
JM: Yes, [laughs] exactly. And you would know that Anne Flatch can't read faces. And that Steve Boyer's character totally botched his career as a police officer. You would know all these things about all the people in the town, because everybody knows everyone's business. And I think that's what's fun; knowing the quirks about people, and I think in a small town you do. That was definitely familiar to me. 
As for your character, Carol Anne, she is involved in a lot of the humor, but everything she says is so serious. Did you have any trouble delivering such sternly serious lines — like threatening the death penalty — in such a comedic atmosphere? 
JM: As far as did I break? 
Exactly, will we get any great outtakes? 
JM: Yes, of course, there were moments where I would break. But that was so part of her character — being incredibly serious throughout this entire trial. Sometimes that was easier to play. This was all very serious for her. This is a murder case, she is going to try this guy, she is going to win, she wants to be DA. I think sometimes having that to lean onto was helpful, because of the absurdity of everything else going on around her. Everything is so silly. 
I love that she is stern. I will say — I don't know how often you hear her say incredibly dirty things — those were the moments that were harder for me, because I could feel my face going red — like bright red — with embarrassment. I would get these scripts and go, "Oh my gosh, this is so dirty." But then I would think, "Maybe she doesn't know what she is saying is incredibly dirty." But then as the season progresses I realized I couldn't play that game with her anymore [laughs]. 
Clearly there is something wrong with her sexually, and I think she knows exactly what she's saying. But those were some of the harder moments for me. 
In terms of Carol Anne saying dirty things, much of that is directed toward Josh. There is a lot of flirting going on, sexual tension, mostly brought on by Carol Anne. Is it safe to say then that this will continue? Maybe into something more?
JM: I don't want to give anything away. But I think the sexual tension will continue, I will just say that. When Carol Anne gets her eyes on something, she doesn't really let go.
Especially since the dating pool is so small in East Peck?
JM: Yes, exactly. The dating pool is really small, hence why everyone in the small town is dating Rutger Hiss [laughs]. 
The real story behind Trial & Error, though, is this murder mystery. And true crime and murder mysteries are definitely back in. Is it strange being part of a series based on a crime that is actually quite mysterious, but makes you laugh the whole time you are watching?
JM: I think it's brilliant. I have been a big fan of these crime docu-series for a while. I was a huge fan of The Staircase and you may notice some nods to that. That genre is right up my alley. John Lithgow said it so well: "If you just turn one little dial you have a farce," and that is what our show is. It seems so obvious and ripe for the taking to do a show like this. 
When I read it I thought, "How has this not been done before?" It is part of our pop culture now. I was absolutely thrilled from the get-go to be a part of this, because [laughs] I think it is really funny. I'm delighted to be a part of the show. 
It is definitely funny. When I first started watching, I would jot down some jokes for future articles, and I had to give up, there are so many funny jokes. 
JM: Yes, and after reading the first couple, I got the feeling [laughs] that the writers may have 10 more seasons of jokes revolving around this idea. And you can tell they clearly have buckets more. I was really shocked that it hadn't been done before, because it seemed obvious.
Is there anything else — besides the true crime aspect — that drew you to the role and excited you to be part of this great ensemble?
JM: Well, first of all, I knew that John Lithgow was attached by the time I read the pilot. And as an actor you want to work with actors that you admire, and look up to and are fans of, so that was a draw right from the get-go. I thought it was funny. I thought the pilot was hilarious — that was interesting. I knew all the people involved were great writers and creators. 
As far as the role goes, I was excited that it was completely different than anything I had done before, which is sometimes scary. I felt like I would like to try and do something that is not sweet Emma Pillsbury from Glee — I think most people know me from. So, it was exciting to step into the shoes of somebody that is just the opposite end of the spectrum from maybe what people know me from.
You're not going to be breaking into song at any point?
JM: No [laughs]. I don't even know if Carol Anne Keane is a fan of music in general. That might bring happiness, that probably turns her cheek. But yea, it is exciting to do something different. I also like the fact that she is not — sometimes you get a lot scripts where there is not anything exciting there. She is just very exciting. She is sexual, funny and strong. I feel like they are just writing great stuff for her and not necessarily her gender, so it is exciting to step into a role like that. 
It sounds like Trial & Error is being set up similar to an anthology series. Assuming this is still true, do you have any insight into what may happen in a second season? Would you be playing a different character?
JM: I think — and this is really more of a question for Jeff Astrof — but I feel like we would be playing the same characters, but perhaps there would be a different case at hand. That is something I feel like we talked about early on, so ideas obviously change as you are shooting and the season progresses. I'm assuming that is where they still are though. 
Outside of Trial & Error, are there any shows you try to make sure and watch?
JM: Well, I have an infant at home, so watching anything isn't as easy as it used to be. I'm watching Planet Earth in between breaks because it is calming. We did finish The Crown, that was amazing. John was amazing in that. 
It is actually incredible how John Lithgow goes from such serious roles to comedic roles — seemingly with ease. 
JM: Oh my gosh I know. I have said before, he is one actor that I think, quite fairly, that you can say his career is enviable. And it is only enviable because he is such a brilliant actor. He can do absolutely anything and everything, and he seems to do it effortlessly, which is really annoying [laughs]. How cool is it to see him play Winston Churchill and now to be playing Larry Henderson on Trial & Error?
I can't imagine two different characters.
JM: I know, exactly. Completely the opposite end of the spectrum. 
Is there anything else you'd like to say about your experience working with this cast?
JM: I have said this a million times before, but when I did start shooting, when we came back to work after the pilot was picked up, I had my baby two weeks before. So, I was coming to work a little dazed and confused most days, and I could not have done that with a more brilliant and supportive cast. And even though it was an intense few months of shooting and having a tiny, tiny baby at home, it could not have been a better experience. I want people to watch because I am really excited and proud of this show that we made. 
Trial & Error airs Tuesday nights at 9 p.m. Eastern on NBC. 
Mic has ongoing coverage of NBC television series. Please follow our main NBC hub here.