'Overwatch' 2.08 Patch Notes: PS4, Xbox One update ushers in much-needed bug fixes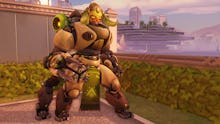 Overwatch players who downloaded the big, recent update on consoles — the one that introduced the game's newest hero, Orisa — soon found a bunch of bugs, including a widespread one that made all music completely, eerily silent. Luckily, patch 2.08 is now available for both Xbox One and PS4. It addresses most of the biggest offenders, along with a very minor balance tweak for Orisa. 
Read on for the full 2.08 patch notes for PS4 and Xbox One.
Overwatch 2.08 Patch notes: Here's everything included in Overwatch update
GENERAL UPDATES
More Overwatch news and updates
For more on Overwatch, check out the rest of what Mic has to offer. Here is a list of our predictions for what seasonal events might appear in 2017, a look at a very funny but naughty meme on the Overwatch subreddit, an interview with the creator of an awesome new Overwatch zine, a full explanation of the different types of health in Overwatch, our definitive ranking of every Overwatch hero, a roundup of awesome gender-bent Overwatch cosplay and a giant Overwatch FAQ for beginners.