In praise of reality competition, TV's most consistently entertaining genre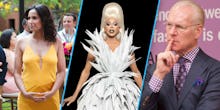 The season nine premiere of RuPaul's Drag Race featured, in a mere 42 minutes, every emotion that television can make you feel. There was the drama of Eureka O'Hara telling Lady Gaga her music saved her from "near death." There was the inspiration of watching Nina Bo'nina Brown, a queen with fewer resources than her competitors, triumph in the challenge. There was comedy, with the judges and contestants spitting punchlines like they were backstage at Saturday Night Live. And there was the nail biting suspense of a game show — Drag Race is still a competition, after all.
Not only did Drag Race's premiere feature all that, it also blended all those types of TV together into a coherent, cohesive package. And this wasn't even the greatest episode of the series!
The success of this calculated emotional arc is a credit to the team that works on Drag Race, of course, but also to the genre: Reality competition. There's a reason you see it everywhere on TV, from Drag Race to Survivor to America's Next Top Model to Top Chef. Reality competition is the simply most entertaining genre on television — far better than other, lesser reality TV — and it deserves far more respect than it currently receives.
Though shows like Drag Race (which just hit record-high viewership for its premiere) are giving it new life, reality competition is hardly new. There are some American examples from the '90s, like the still-airing The Challenge, but reality competition really took roost on United States television in 2000. That year brought Big Brother, already airing in other countries, to American shores, along with Survivor. The two shows are still on the air; when done right, reality competitions are built to last.
The next few years would bring peak members in the form of American Idol, which would become a ratings behemoth, and The Amazing Race, which dominated the Emmy race for outstanding reality competition series for years. These shows began to provide the kind of iconic TV moments you'd previously have expected from scripted fare, like Sue Hawk's "Rats and Snakes" speech during Survivor's first finale, or when Ruben Studdard defeated Clay Aiken in American Idol season two's shocking upset. The latter moment drew nearly 34 million viewers to their TV sets.
In the last decade or so, reality competition spread and made its home on cable networks, where it would thrive. Network TV hasn't introduced a reality competition stalwart in years, while cable channels like Food Network and Bravo churn out hits. A lot of this is in how the shows replicate: Project Runway was a winning formula for Bravo, so production company Magical Elves took the formula and applied it to Top Chef. That show begat Chopped, which begat Cutthroat Kitchen, and so on.
You'd think that taking such bald inspiration would inspire mimicry, not greatness. And certainly, for every truly great reality competition series, there's a weak copycat. (The Fashion Show had nothing on Project Runway, certainly.) But those series that have stood the test of time prove that there's nothing quite like a well-executed reality competition.
Part of what makes reality competition as a genre so successful creatively is the way it sustains audience interest in characters both episodically and throughout a season-long narrative. While the creators of prestige series like Game of Thrones shrug off the concept of episodes, instead thinking of their series as a movie, reality competition embraces each installment as a story unto itself. Every episode ends with an elimination — the end of one contestant's journey, sometimes shocking and sometimes not — while the whole season tells a separate and complete story arc.
Take Top Chef: This past season focused on Brooke Williamson's journey as she returned from losing in season 10 to take the title. But like the best Top Chef seasons, it also included individual development for contestants like Shirley Chung, who, after vying for recognition from her mother, finally got it. She didn't win, but she earned the happy ending she craved.
Other types of reality TV — think slice-of-life reality like Keeping Up With the Kardashians or dating shows like The Bachelor — prove inefficient in this regard. Vanderpump Rules, another example of slice-of-life reality, is usually a paragon of smart story editing. However, it fell apart this season, unable to handle servicing its individual "characters" and their stories. The Bachelor just wrapped a hugely disappointing season that ended nearly every episode with a cliffhanger, only for that cliffhanger to let viewers down the next week. What's the point of a show that never produces a satisfying conclusion, either during the episode or at the end of the season?
Reality competitions like Drag Race, The Voice and Project Runway don't do that. They serve rewards for tuning in each week by paying off with a narrative, while simultaneously keeping fans hooked for the whole season.
In an age where bingeing is increasingly common, you might think reality competition would suffer. After all, a show like Search Party or Stranger Things can function more like a great novel does to tell a greater story, with episodes as chapters. Episodic comedies can take on a snack-like quality, digestible because of their shorter runtimes and less-taxing focus requirements.
But reality competition gives you the best of both worlds. Look at The Great British Bake-Off, which recently hit Netflix again as The Great British Baking Show. That series is totally bingeable for both what a warm comfort it is and how rewarding it is to watch the bakers' development over several episodes. Most of each individual installment is devoted to baking, so watching week by week only gives small doses of character work. Watching multiple episodes in a row makes for a more fulfilling watch.
Because of this multi-platform appeal, reality competitions like Drag Race continue to grow their audiences. Like Project Runway, they continue to spin off new shows. While other programming, even former stalwarts like major league football, craters in the ratings, reality competition series continue to expand their niche. Sure, they'll never be blockbusters the way they were in the early-2000s heyday, but they're maintaining their core audiences while building larger brands for franchising across the globe.
As a genre, reality competition is truly the jack of all televisual trades. Reality TV, as ubiquitous as it is (reportedly 750 unscripted series aired in 2016 primetime on cable alone), gets criticized for being lowbrow, but the intelligence of the competition — rewarding contestants for being good at what they do — adds highbrow credibility. This genre does what other forms cannot in balancing all kinds of story elements, characters and more.
Of course, it isn't always great — packing all that into just 42 minutes is a challenging proposition, after all. The streets of Bravo are littered with programs like Shear Genius and Make Me a Supermodel, which, despite their pleasures, couldn't quite tighten up their formats enough to sustain audiences.
But when reality competition programming is good — like RuPaul's Drag Race — it's like nothing else. It's truly the most captivating stuff on TV. I know I'll be glued to the TV Friday night to see how the season unfolds.
Mic has ongoing TV coverage. Please follow our main TV hub here.