Today in Trump-Russia News: Paul Manafort will testify before Congress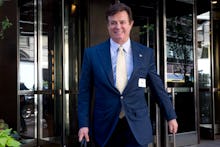 Much of Friday's news in Washington, D.C., has focused on the ongoing drama over the GOP's health care vote. But at the same time that's happening, there have been a number of major developments concerning the FBI investigation into the potential Russia connection to President Donald Trump's campaign. So let's leave Rocky and Bullwinkle for a second and catch up on this exciting Boris and Natasha B plot.
The Manafort Saga, Parts 18-21
Former Trump campaign chairman Paul Manafort will testify about potential collusion between the Trump campaign and Russia during the election. According to House Intelligence Committee chairman Devin Nunes, Manafort offered to testify voluntarily through his legal council.
Meanwhile, Trump administration officials continue to distance themselves from the president's former campaign chair. Rick Gates, a top deputy to Manafort, was forced out of his position at America First Policies, a non-profit that supports Trump's agenda.
And it looks like Manafort may be the subject of another FBI investigation. The Associated Press reported Thursday that Manafort is the subject of a federal anti-corruption probe investigating, among other things, transactions he made with the Bank of Cyprus, a bank known for Russian money laundering.
BONUS: Manafort is not the only person in the Trump orbit to be associated with the Bank of Cyprus. Trump's commerce secretary, Wilbur Ross, once worked as a vice-chair of the bank where he oversaw major financial deals involving Russia.
Nunes walks back Trump monitoring allegation
Nunes walked back his previous insinuation that Trump was monitored by the intelligence community. On Friday, Nunes said he cannot be sure that Trump was surveilled. 
"He'll have to get all the documents he requested from the (intelligence community) about this before he knows for sure," Nunes spokesman, Jack Langer, said.
He also called off an open hearing scheduled for Tuesday at which former Director of National Intelligence James Clapper, former CIA Director John Brennan and former Acting Attorney General Sally Yates were all set to testify.
Schiff is not happy
After Nunes' announcement, Rep. Adam Schiff, the ranking member on the House Intelligence Committee, held his own press briefing in which he lambasted Nunes for canceling the public hearing. He also railed against Nunes for not sharing the intelligence with the rest of the committee, saying that they were "in the dark."
Asked if it was time for Nunes to step aside from his role leading the investigation, Schiff said that that is a decision House Speaker Paul Ryan needs to make.
Sanders wants to know what the Russians have on Trump
On Thursday, Sen. Bernie Sanders criticized Trump for his soft rhetoric when it comes to Russian President Vladimir Putin. "What do the Russians have on Trump?" Sanders asked.
Though recent allegations have centered around whether or not the Trump campaign colluded with Russia to release damaging information about Hillary Clinton, Sanders appears to be referencing previous allegations that the Russians have kompromat — compromising materials — that they are lording over Trump's head.