Melania Trump: How does the first lady compare to her predecessors 65 days in?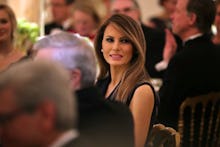 While their husbands may be the ones in the Oval Office, first ladies have plenty of power of their own. In addition to playing hostess at one of the most famous residences in the world, America's first ladies have traditionally used their positions to shape policy, champion causes and help spark real change.
Two months into her husband's presidency, though, first lady Melania Trump is signaling her role will be much more subdued.
Though the first lady is viewed favorably by 52% of Americans — far higher than her husband's latest approval rating — Mrs. Trump has taken a hands-off approach in the Trump administration. Recent reports allege she's been "miserable" in her new role, which she made no public appearances for between Jan. 21 and Feb. 3.
"I expect her to be gracious when acting as first lady, but I would not be surprised if she limits herself to a minimal engagement with the role," Donald Trump biographer Michael D'Antonio told the Chicago Tribune.
Here's what we know the first lady has been doing — and not doing — since her husband took office, along with how that stacks up with the presidential wives who have come before.
In the White House
So what has Melania Trump been doing in the White House since her husband took office? Not much, considering she hasn't even officially moved in yet.
Trump has been staying in Trump Tower in New York during her husband's presidency while son Barron finishes out the school year, though the pair are expected to move into the White House in June. The Washington Post estimates the two staying in New York comes with a security cost of approximately $200,000 each day, assuming reports that the Secret Service and military would rent space in Trump Tower are accurate. 
Though she's currently remaining a New Yorker, the first lady has begun to make plans for the Trump White House. Melania Trump hired Laotian-American interior designer Tham Kannalikham to help revamp the first family's living quarters at the White House. The decorator is likely helping to bring Melania Trump's desired "glam room" to life, which, Vogue reported, will allow the first lady to spend over an hour each day getting ready with "the most perfect lighting scenario."
Melania Trump won't be completely transforming the White House, however: The first lady has pledged to keep the vegetable garden that former first lady Michelle Obama installed during her husband's presidency.
The first lady is also still working on establishing her White House staff. Trump appointed women to two key positions in February, naming Lindsay Reynolds her chief of staff and Anna Cristina Niceta Lloyd as White House social secretary. However, Trump has still yet to fill such integral positions as press secretary and communications director, the New York Times noted earlier this month.
As hostess
One of the first lady's traditional duties has been the White House's official hostess, helping to organize events and entertain guests.
Even though Trump doesn't live in the residence herself, she has been starting to take on the hostess role as her husband's presidency gets underway. The first lady cohosted and attended the Annual Governors Ball on Feb. 26, was the one to announce the reopening of the White House visitors office on Feb. 14 and is expected to join the president for the annual White House Easter Egg Roll on April 17. Trump also joined her husband for dinners with Sen. Ted Cruz and Sen. Marco Rubio and their families. 
The first lady has also made appearances with the wives of foreign heads of state when they've come to the United States. When Japanese Prime Minister Shinzo Abe came to the U.S. with wife Akie Abe, Trump did not greet the prime minister's wife in Washington but later appeared with her at the Morikami Museum and Japanese Gardens in Florida during a trip to Mar-a-Lago.
Trump made her way to Washington to greet Israeli Prime Minister Benjamin Netanyahu's wife Sara, accompanying her on a visit to the Smithsonian's National Museum of African American History and Culture.
"As we remember, with deep humility and reverence, the historic plight of slavery which the Jewish and African-American people have known all too well, we rededicate ourselves to those powerful words that both our nations hold dear: 'NEVER AGAIN!'" the first lady said about the museum visit in a statement to CNN.
Championing causes
The first lady hasn't yet made any progress on her campaign pledge to help combat cyberbullying. Instead, Trump has signaled that her advocacy may take a more woman-centered approach.
On March 8, International Women's Day, Trump hosted a women-only luncheon, in which she made a rare speech highlighting the importance of education and equal opportunity. In the speech, CNN reported, Trump highlighted the plight of persecuted women around the globe, calling on attendees to "use our combined resources to help free them from such unthinkable and inhumane circumstances."
"I continue to firmly believe that education is the most powerful way to promote and ensure women's rights. Together we will do this not only by striving for gender parity at all levels of education, but also by showing all children, and especially boys, that it is through empathy, respect and kindness that we achieve our collective potential," Trump continued. "Together with UN Women for Peace Association, we can educate and reinforce the importance of tolerance and a society filled with inclusivity regardless of race, gender or culture." 
The first lady also championed education in her first solo public appearance on March 2 for Read Across America Day. Trump went to the pediatric wing of Manhattan's New York-Presbyterian Hospital/Weill Cornell Medical Center and read Dr. Seuss' classic story Oh, The Places You'll Go — a reported favorite of hers and Barron's.
How does Melania compare?
Trump's sparse appearances stand in contrast to the first months of other recent first ladies, who have often established a strong presence in the White House and started working toward larger goals by their husbands' third month in office.
Michelle Obama had made remarks on over 20 separate occasions by March 20, 2009, which included a series of trips to federal agencies to expand her public profile. By early April, Obama had even established an international profile, attending the G20 summit and delivering an inspiring speech to a group of London schoolgirls. 
The vegetable garden that Trump now pledges to keep, too, was first planted by Obama in March 2009, kickstarting her ongoing commitment to nutrition and healthy eating.
In contrast to Trump's guarded privacy, Obama's earliest days as first lady were also marked by a desire to be accessible to the American people.
"We want entertaining in the White House to feel like America, that we are reminded of all the many facets of our culture," Obama said in a March 2009 Vogue profile, in which she described the White House as a "national classroom."
Obama, Oprah Winfrey said in the Vogue article, was "bringing a sense of connection and accessibility to that position that no nation has ever witnessed."
Though Laura Bush didn't play as overt a role in her husband's presidency, the first lady — a former public school teacher and librarian — had already established her passion for education during her husband's first months and helped to establish the first National Book Festival in 2001.
Former Librarian of Congress Dr. James H. Billington praised Bush's "quiet, persistent and effective way of supporting education and what is best about Americans," at a Library of Congress event at which she spoke on March 20, 2001, noting that "we have much to learn from her example and her determination."
Perhaps no recent first lady's first months were as prolific as those of Hillary Clinton, however. Within Bill Clinton's first months in office, Hillary Clinton had established herself not only as White House hostess and doting mother and wife but a key member of the president's policy team. Clinton became her husband's primary health care adviser, and a Justice Department lawyer advocating for Clinton described her role as "the functional equivalent of a government employee."
A Feb. 1993 Nightline segment on Clinton highlighted the first lady's massive international reputation and political influence just one month into her husband's first term. 
"Hillary Clinton is playing a more active, more visible, more influential role as presidential spouse than any previous spouse in the history of this country," Thomas Mann of the Brookings Institute said in the segment. 
For Clinton, though, taking on such a large political role while keeping up with her hostess duties was just part of the territory for working mothers.
"I'm still always a little bit amazed at how big an issue this is for people because if they will just stop and think, this is what women do," Clinton told the New York Times about her work-home-life balance in early Feb. 1993. "Eventually, I expect, it won't be a subject for a lot of comment."