Pizzagate gunman pleads guilty to multiple charges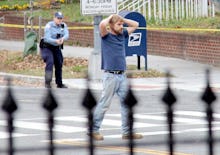 Edgar Maddison Welch, the 28-year-old North Carolina resident who was arrested in December after allegedly entering a Washington, D.C., pizza place with an assault rifle and firing a gunshot into a door, pled guilty to multiple charges in a D.C. courtroom on Friday, according to a statement from the Department of Justice.
Welch was allegedly inspired to enter the pizzeria, Comet Ping Pong in D.C., after wild theories circulated online that the restaurant was home to a secret child sex ring co-led by Hillary Clinton and her former campaign chief, John Podesta, the New York Times reported at the time. 
Welch allegedly traveled went to Comet Ping Pong on Dec. 4 to investigate those online rumors. He entered the restaurant armed with an AR-15 assault rifle and a revolver, and fired the assault rifle into a door. He allegedly spent more than 20 minutes inside Comet Pizza before leaving, unarmed. He was arrested at the scene.
The Washington Post reported that, days before, Welch had texted a friend to say "Raiding a pedo ring, possible [sic] sacrificing the lives of a few for the lives of many ... Standing up against a corrupt system that kidnaps, tortures and rapes ­babies and children in our own backyard."
On Friday, Welch pled guilty to a Federal charge of interstate transportation of a firearm and ammunition and a local charge of assault with a dangerous weapon. He likely faces sentences of 18 to 24 months in prison on the federal charge and 18 to 60 months in prison on the local charge, according to the DOJ.