Nintendo Switch frozen? Here's what to do if your console crashes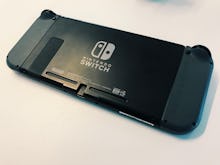 The Nintendo Switch is a fantastic machine, but it's not without its faults. The included dock has been scratching some devices, while other early adopters have reported the device's software crashing at times. If your Nintendo Switch is like ours, it's frozen at least once. Clearly, we're not alone.
Here's where to do to fix the machine and get back to gaming if your Nintendo Switch is frozen and not working.
Nintendo Switch frozen: How to bring your game console back to life
If your Nintendo Switch freezes, you have a few options. The first you'll want to try comes from iMore, which suggests docking and then undocking the Switch. Putting the device in the dock may not seem like much, but shooting your game from your handheld screen to your television display interrupts nearly everything taking place within the console. Snap your Switch out of it by sliding it into its dock and then taking it out again.
If you're on the road and the dock is unavailable to you, the power button should come to your rescue. Mashable says to hold the power button for 15 seconds. Afterward, press it normally as if you were turning on the system. 
In the worst cases of your Nintendo Switch freezing, you'll see this: a blue screen of death.
If this happens to your device, contact Nintendo and see if they can repair your system for you. The company may simply need to reset the device.
Check out more Nintendo Switch coverage
Looking for more Nintendo Switch news? Check out how blind gamers are using the Nintendo Switch. Nintendo's left Joy-Con issue turns out to be a hardware problem, find out how to solve it. Find out how to buy one amidst the recent restock. Learn why the Switch cartridges taste so bad. Check out our comparison photos sizing up the Switch to the Wii U GamePad (part one and part two), find out how to make use of ethernet without the dock and the best way to get alerts when new stock arrives.